Discover The Pin Up Girls Of The Vintage Era And Of Today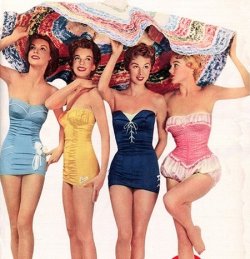 Pin Up Girls have been around for a reeeeeally long time. The popularity of these ladies skyrocketed in the 1950s, around World War 2.
The term Pin Ups comes basically from the idea that these women are inaccessible models which are to pinned up on the walls. Simple! You'd often find posters and images of these dolls on the lockers and in the bedrooms of the soldiers who were at war, uplifting the spirits of the gents who were fighting away from home - away from families, friends and any intimate relationships.
Pin up ladies also gained popularity in the advertising world, as marketers discovered that beautiful women make anything more appealing. You'd see drawings (color photography wasn't readily available) on the advertising of these women, promoting every day needs from cooking utensils to toothpaste.
During the war, as the men were out of the country, the women had to take over the roles that the males used to do. So the ladies took it upon themselves to fix cars, maintain the house and do the blokey jobs. So the feminine side was suppressed.
Finally after the war ended, this style of fashion really became prominent when the women could finally let their guard down and become the ladies of the house again.
Countless years on and our lovely delicious "cheesecakes" (as they were also called) are still heavily sought after. Women of today are turning back to this fashion style, showcasing the feminine curves, really pampering themselves and presenting themselves to the world with glamor and perfect hair and make up.
Below is a list of just some of the pin up women of the world. We've covered as many vintage beauties as we could, and the list of modern pin up girls grows every day! It's hard to keep this list up to date, but below are the biggest names in the industry.
Let's check out these beauty queens listed below (A-Z)...
Kristina Paulk
Down To Earth.
Reserved.
Lovable.
Vegan.

Lady Lace
Porcelain Skinned. Fiery Redhead. Burlesque Performer.

Marilyn Monroe
#1 Hollywood Pin Up Icon. Admired Style. Class. Glamor.

Masuimi Max
Controversial. Alt Model. Show Stopper.

Micheline Pitt
Dark Pin Up Styling. Business Woman. Driven.

Mosh
The Pin Up With The Million Poses. Dedicated Model.

Return from Pin Up Girls Page to Pin Up Passion Homepage