Angelique Noire
Top Black Pin Up Destined To Be An Icon
Angelique Noire is a Top Black Pin Up Destined to Be An Icon. She is truly amazing and represents the pin up industry very well.
She has true class, glamour, an amazing cheesecake smile, innocent sex appeal and adorable charm which are required for a top pin up girl.
Her confidence shines through and you can't help but stare.
Angelique Noire is proving to the pin up world that any woman, of any nationality can be an exceptional glamour queen.
Best to keep a look out for this lady. Soon she will be everywhere you look.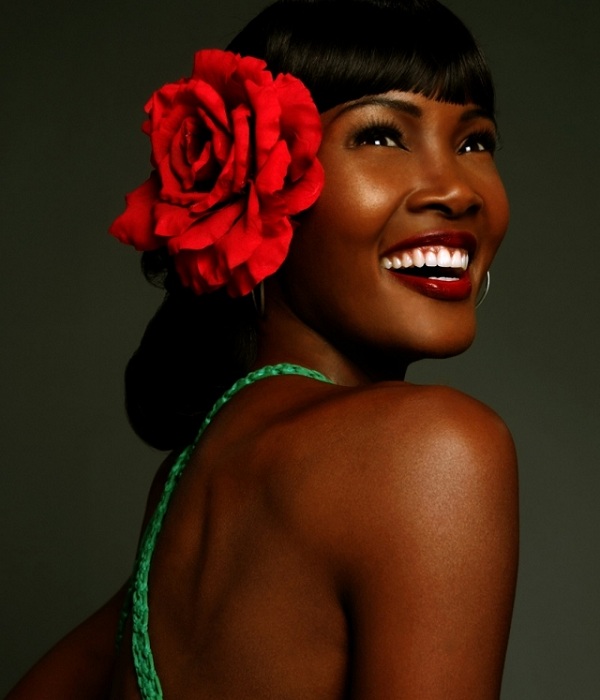 Nationality: African, Filipino, Native American, Caucasian
Height: 5'10
Bust: 34B
Waist: 25
Hips: 35
Dress size: 2-4
Pant size: 2-4
Shoe size: 9




Where do you live?
I currently live in Los Angeles.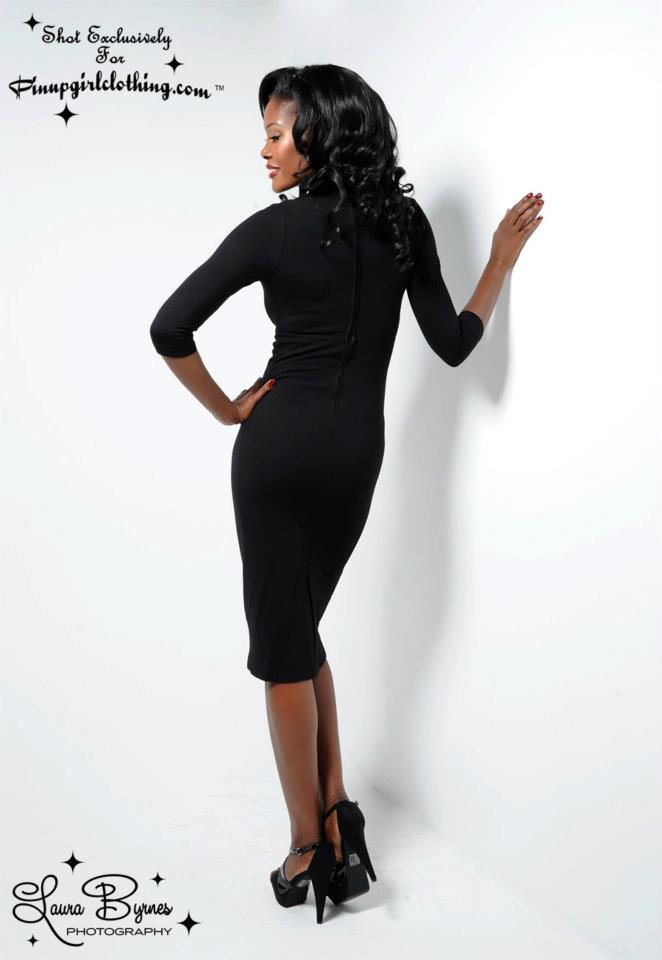 What are your current projects?
My modeling career is ongoing and I work with diverse clients. Right now, I am heavily focused on my pin up career and trying to leave my mark as the first Black Pin Up.
Trying to get my pin up career of the ground is a lot of work but so worth it. I'm loving the journey.
Other specializations aside from Pin Up?
I model for advertisements, commercials, catalogs, department stores and a lot of different products. I also rock the catwalk!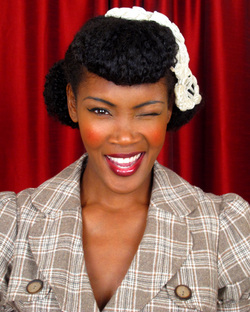 Do you have any kids?
A lot of people get so surprised when I answer this question so, yes! I have two children. They aren't toddlers anymore!
How do you stay in such amazing shape with two children?
Genetics!
I am very lucky and grateful. I don't do a whole lot of anything so the only thing I can think off as to why I have my body shape has to be genetics.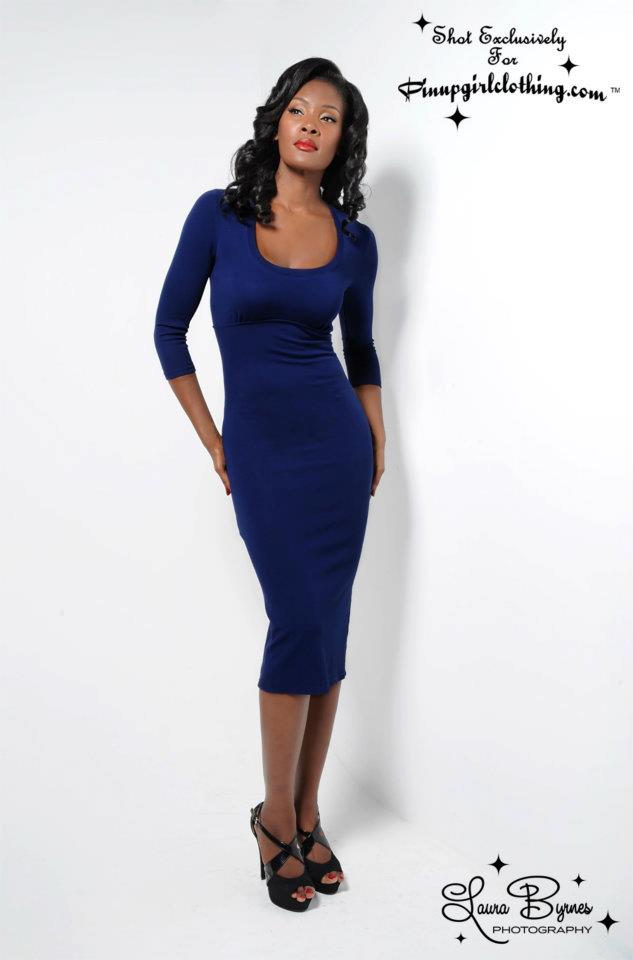 Where do you get your inspiration to express your love for pin up?
I get my inspiration from pin up models of the 1920s-1950s and I also noticed that women of my color were underrepresented.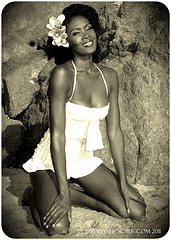 Who are some of the clients you worked for?
I worked for Allure Magazine, Mac Cosmetics, Macys, Macys.com, Best Buy, Betsy Johnson, Bebe Sport, Nike, Neiman Marcus, Old Navy, Chevy, Coca Cola, Paul Mitchell, Ralph Lauren and many more! I am so blessed to have a lot of clients.
What is confidence to you and how have you become so confident in yourself?
Confidence to me would be faith. Faith in myself and a higher power.
I believe in God and one of my favourite scriptures is "All things work together for your good when you trust in God".
That gives me confidence to know I can make mistakes and do things which may not necessarily be the best thing for me, but all together, everything works out to my benefit.
Ultimate beauty tip?
Drink lots of water! So important!
If you were on a deserted island and you could only have 3 things with you, what would they be?
1. Organic Extra Virgin Olive Oil - I moisturize my hair with it, take off my make up, moisturize my skin with it.
2. Baking soda - I use this to exfoliate my skin, wash my hair with. So essential for me.
3. SOCKS! They are my security blanket. At home you will never catch me without socks!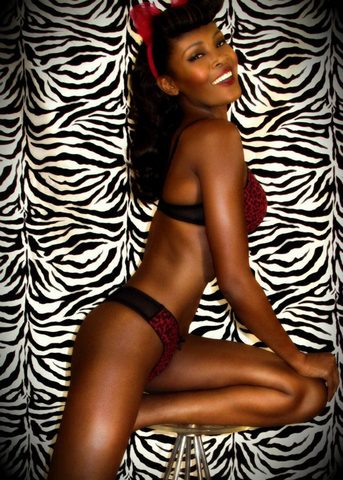 What is the biggest challenge you have found in trying to become a recognized model in the industry?
People don't typically think of a brown skinned model as a potential pin up model. I believe I fit the standard of class, beauty, innocent sex appeal and glamour very well so I am trying to change peoples beliefs.
She is indeed a very reputable pin up model, with a long list of clients on her portfolio, it looks like this woman will be sizzling more runway shows, will promote more advertisements and will be at the front page of more magazines. Being a working mother has never looked so beautiful and that is one vibe that she gives to her audience. Her beautiful aura, her confidence and of course, her love for pin up!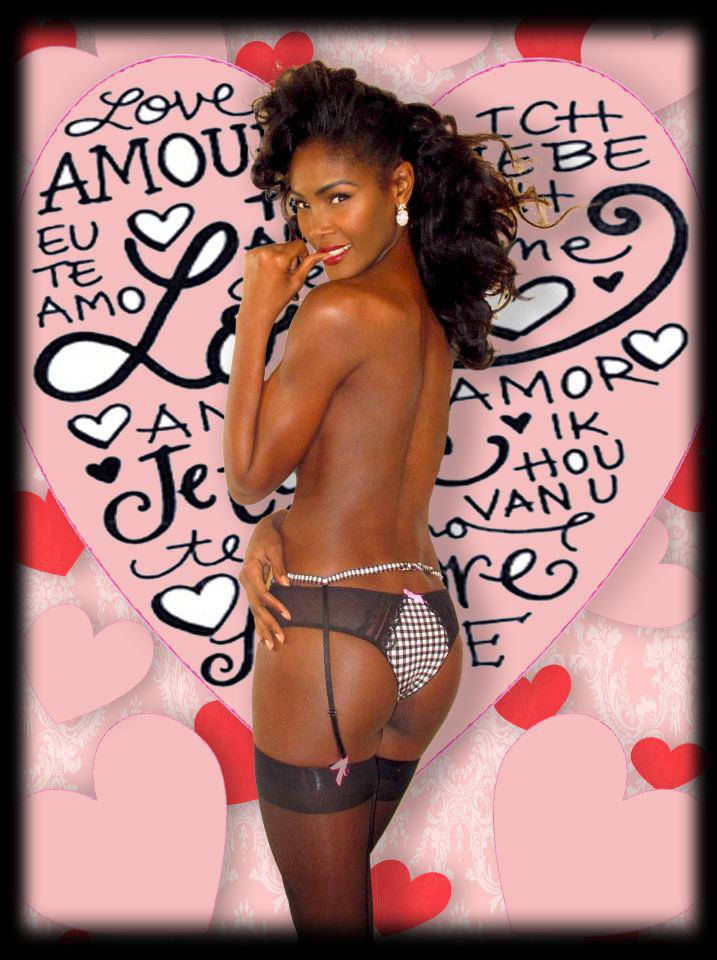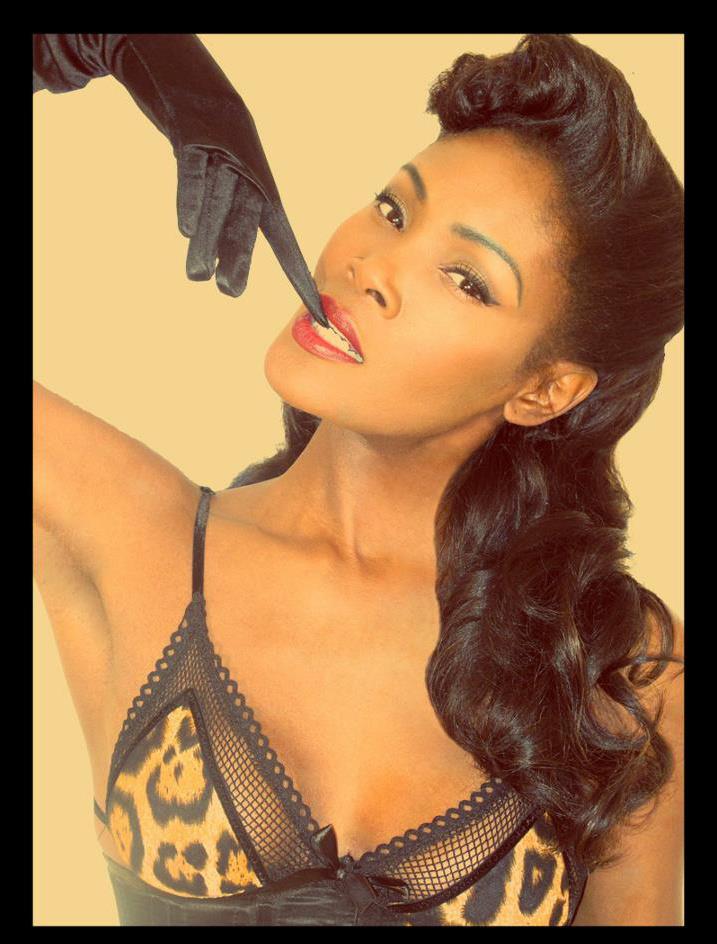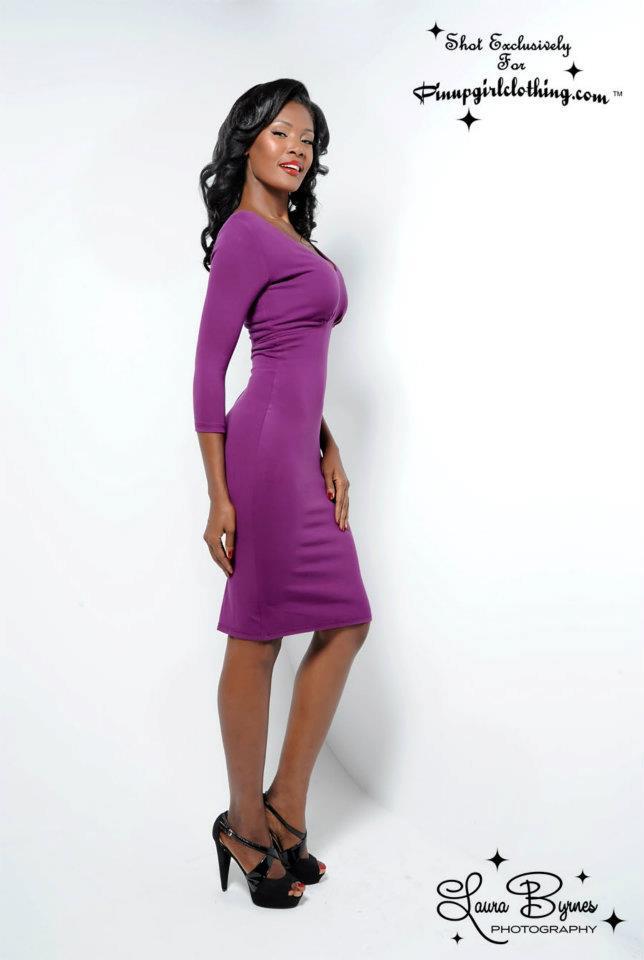 Find out more about Angelique Noire:
Angelique Noire's Website
Angelique Noire on Facebook