Bianca Bombshell
One of the Best Canadian Pin Ups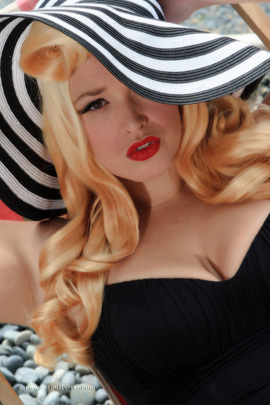 Image courtesy of Powder Puff Vixen Pin Up Photography
Follow Bianca on Facebook - click here!
Bianca Bombshell's vitals:
Pin Up Name: Bianca Bombshell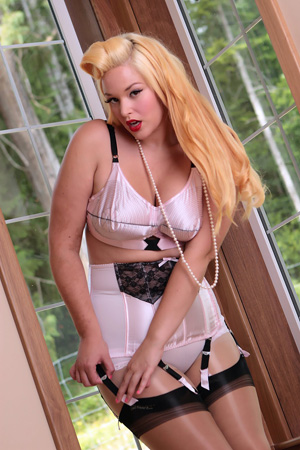 Height: 5'11
Weight: 185 lbs
Bust: 38"
Waist: 24"
Hips: 40
Cup: DD
Dress: 14
Shoe: 10
Hair color: Blonde/Brown
Hair length: Long
Eye color: Brown
Skin color: Pale
Genres: Acting, Editorial, Erotic, Fashion, Fetish,, Glamour, Hair/Makeup, Lingerie, Pinup, Promotional Modeling, Runway, Spokesperson / Host, Swimwear, Underwater


"All that we are is the result of what we have thought. The Mind is Everything. What we Think, We Become" - Buddha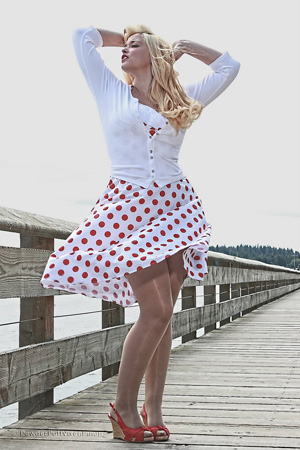 Image courtesy of Powder Puff Vixen Pin Up Photography
Where did you come from? What is your story?
My Pin Up Passion has been bubbling to the surface ever since I was a little girl. I would see the Vargas Girls and want to be one of those girls one day. They all looked so beautiful and classic. Then there are women like Marlyn who opened up the world of glamour to all of us, and all over the world we all fell in love.
There is something about being a Pin Up Model that excites me, it truly brings out my Passion. My inspiration has come from all over the world, for my entire life. The people who inspire me the most are regular people who may have came form nothing and made something of themselves.
I see a lot of talent in Varga Photography and working with them is a big goal of mine, then turning that goal into getting the Cover of a Magazine. The women who inspire me the most today are strong confident women, who show their real beauty.
Beyonce is a big influence on my life, she reminds me that if you are born to do something, work hard at it, it will happen.
I can't forget about Flossie Charmicael ~ The Panther City Pin Up ~ She is such a sweet gal and a good friend, and she helped me along they way with friendly advise and tips in the Pin Up World.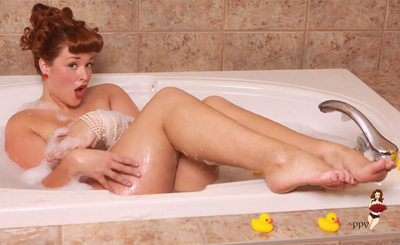 Image courtesy of Powder Puff Vixen Pin Up Photography
How you get your skin to be so amazing?
I only use Dove Soap on my skin! I Always have a clean face at night before I go to bed. 2 Days before a shoot I will apply egg yolk to my face and let it dry.
Wash It off, then the next morning I wake up with fresh skin. This is a skin secret that has been used for ages by the women of India. If your skin has blemishes, I suggest putting in a drop or two of Whitchhazel along with the egg yolk and that will help heal your skin.
There was the girl at the grocery store and she asked me about my skin, I told her to ALWAYS wash off her make up before bed, it doesn't matter if your boyfriend sees you.
She then told me that SHE was scared of how she looked without makeup, so she leaves it one at night, in turn making her skin worse. What I told her is that we are ALL beautiful, with or without makeup.
Just try it out, wash your face off then look in the mirror. You will slowly get used to the way your fresh face looks and you never know, maybe you will end up cutting out some of the makeup that you were applying before.
~ Just remember that less is more ~ Unless I am shooting of course, then I use so much blush I could sink a ship! :)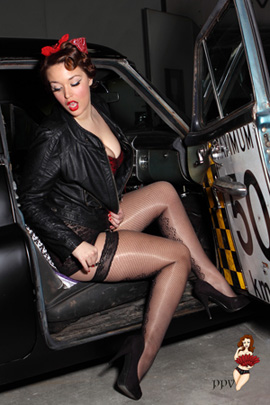 Image courtesy of Powder Puff Vixen Pin Up Photography
Who is your inspiration behind your look:
Vargas Girls of course
Where do you want to take your pin up modelling?
Anywhere the wind takes me.
I believe that if you think positive things in your mind and truly believe they are possible for your life, they will happen for you. All I want out of life is to be happy, live in peace, and to achieve inner peace I find it is very important to listen to the voice within.
Or some call it your instincts. I never do something I don't feel comfortable doing, I always listen to my soul, as to what is the right path for me to take. After all, I create each road in my life and I decide what road to drive on.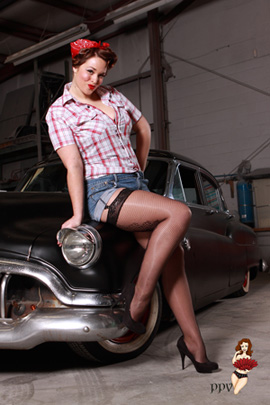 Image courtesy of Powder Puff Vixen Pin Up Photography
One best pin up tip you have:
Never ever, for one second ever second guess yourself. It will show up on film. Always practice your faces and poses in the mirror before a shoot. Always try on your clothing before a shoot, like a dress rehearsal. If you do these few things to prepare yourself, you will go into the photo shoot confident that your look is solid, your poses are just so right . If you show up prepared you will be much more confident and confidence is sexy to anyone, man or women.
Just remember to never doubt yourself.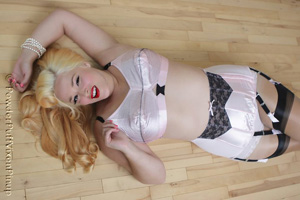 Image courtesy of Powder Puff Vixen Pin Up Photography
Follow Bianca on Facebook - click here!
Return from Bianca Bombshell to Pin Up Girls
Return from Bianca Bombshell to Pin Up Passion Homepage