Ana Perduv

Exclusive interview with Sorelle Amore - Founder of Pin Up Passion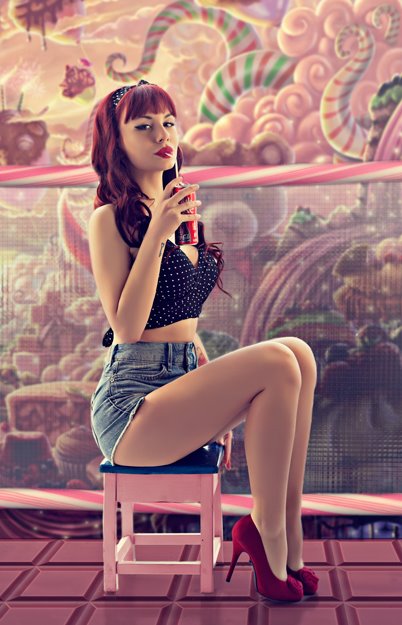 Ana Perduv is a breathtaking beauty. She is a columnist/writer/journalist @ Index.hr & Mens Health magazine, model, modern pin up girl, crazy for 1950's American housewives style, food lover,cook and recipe collector and she's a self confessed cat-lover.
I was thrilled to get the interview done with her. Check out the amazing chat we had about her life...
1. How did pin up modeling start? When? What do you like about the style?
I always loved retro style. I was named after my granny ( I'm actually Ana Perduv II). She was German lady grew in Bosnia, and highly educated. I was always impressed by her style and elegancy. She died a few years ago and it wasn't till then when I realised how big her influence was on me. I started exploring about her time and life and fell in love with the style. But since I'm very girly when it comes to style and colors, I adjusted it to my taste and lifestyle. Old Hollywood movies also made a big mark, the beauty of women from that era is timeless. Their perfect make up, clothes and bodies impresses me. So that's how my vintage story began.

2. How have you become so confident in yourself?
I'm not sure how did I become so confident, but I always believe in what I do and try to be honest and do my best at it. I'm happy about how I look, my job and my life so it would be very ungrateful to have confidence issues. But I must admit, like every woman, I have some bad days but all I need then is to remember who I am and where I'm going.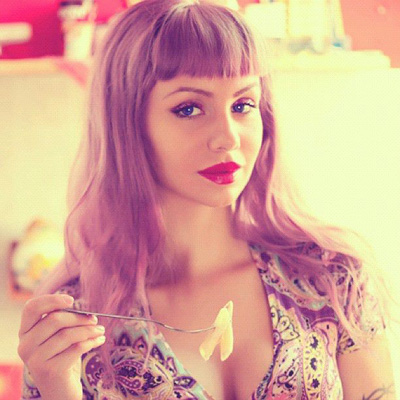 3. Ana Perduv, what articles do you cover when you write for Index hr. and Mens Health Magazine?
When I write for Index.hr I mostly write about woman's issues like hair, make up, health, love and sex. I also cook a lot and collect recipes so I have my own columns on Index Rouge (www.Index.hr/Rouge) , every Saturday I write my favourite recipes and publish my pin up photos made by Filip Dizdar. My writing for Man's Health is bit different- I'm answering man's questions and giving them advices about women.They sometimes get confused about sings in relationship, just like us, so I do my best to help them understand women.
4. Your profile is growing every day. How long did it take for you to become so recognised in pin up modeling? How much work have you had to put into this?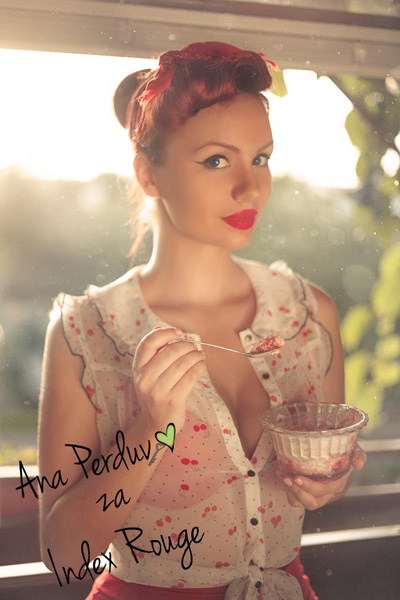 Pin Up modeling takes a lot of hard work and patience. You have to be careful about every detail. I do my own hair, make up and most of the time I wear clothes I designed. In my country is very hard to find some Pin Up clothes so most of the girls have to make their own. My page is madly growing since Rebel Pin Up page started to post my photos. I got about 12 000 likes per photo and great comments from people all over the world. That makes me very happy and glad that my work is recognised by so many people outside of my country.
5. If you had a daughter and had to mentor her into the pin up world, what would the 5 most important dos/don't be?
The most important dos would be: old manners, I'm very conservative when it comes to love, that's the main reason I love old times. Love had a different meaning then and I would love for my daughter as well as every woman to stick to that. Make up, hair and elegant style is also one of the does. My moto si 'never too busy to be beautiful' and that's what I would teach her. I'm not sure what would the 5 'don't' be but I would surely let her know that is ok to live in her own little world and be different from the usual if it makes her happy.
6. Some say pin up modeling depicts women as sex objects. What would you say to that?
I think it's totally wrong. Pin up culture depicts woman as sexy in very sophisticated way. It's all about style. Actually it's shows the beauty in every woman, no matter of cup size or level of nakedness. Unlike today culture.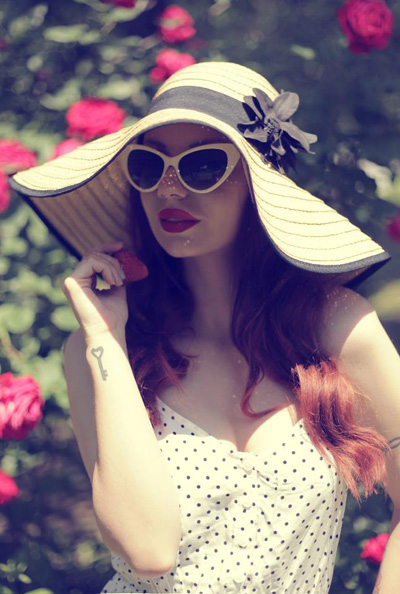 7. Ana Perduv, who do you see as your role model?
I never had a role model, but I have a lot of inspirational woman that I admire. My favourite woman ever is artist Micheline Pitt. She is very talented and beautiful and most important she is honest and hard working. That kind of woman always inspires me to be better. I also admire Dita Von Teese and lots of old Hollywood actresses.

8. Dita Von Teese's audience is usually filled with 80% women. Why do you think women are becoming increasingly interested in the pin up style?
I think it's because pin up style is very feminine. It contains beautiful make up, very feminine clothes and sophisticated hairs styles, so it must have been all that 'girly' stuff, that every women loves. It elegant and sexy at the same time and that's is ideal combination to long for.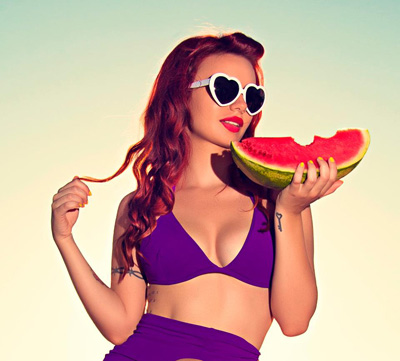 9. Are you more flattered by female or male fans?
I'm always more flattered by woman compliments. Especially if they're also vintage lovers.

10. What do you do in your spare time?
Unfortunately I don't have lot of spare time, but when I do, I love cooking, trying new recepies, designing clothes, reading (comic)books, watching movies. I'm very happily in love, so nothing makes me happier but to spend free time with my boyfriend, cat, dinner and a good movie.
If you enjoyed the interview from Ana Perduv, connect with her: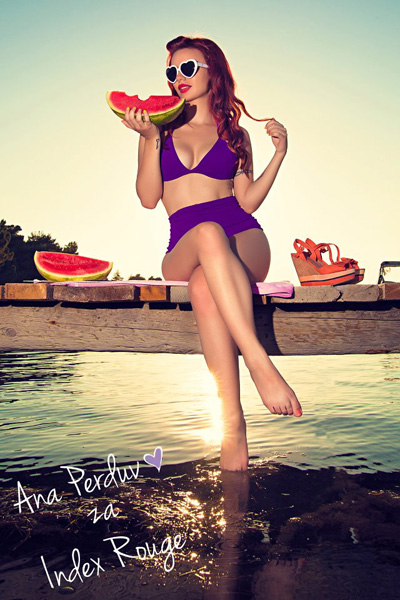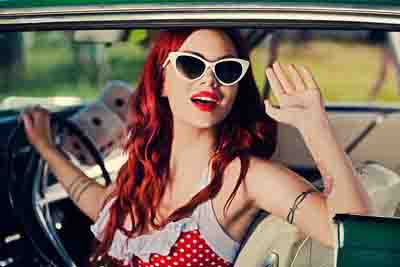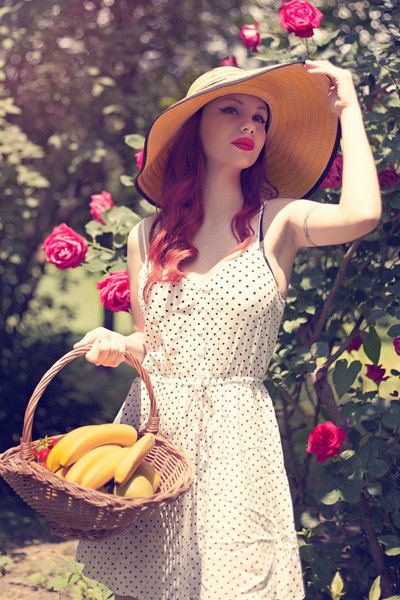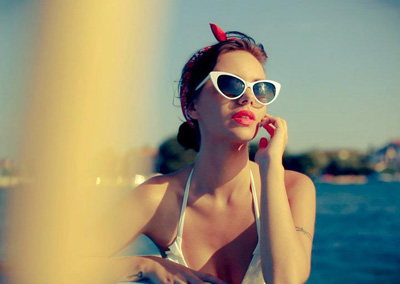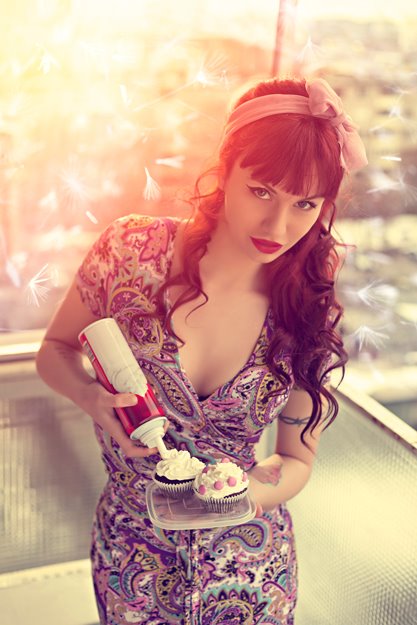 If you enjoyed the interview from Ana Perduv, connect with her:
Return from Ana Perduv to Pin Up Passion Homepage