Christina Aguilera
Natural Pin Up Queen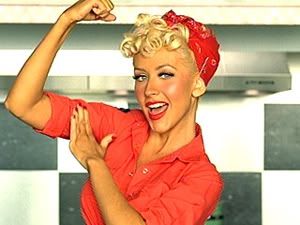 Christina Aguilera is a cutie!
Occupation: Singer-amazing voice! Went through her phase of being an AMAZING pin up. And it really suited her as well! Also an actress.
Date of Birth: December 18, 1980
Hometown: Wexford, PA
Height : 157.5 cm (or 5' 2 1/5")
Weight: 52 kg (or 115 pounds, 8.2 stones)
Cup: E
Dress size: 4
Shoe size: 10 (US) 40 (European)
Hair colour: Blonde
Hair length: Medium to Long
Eyes : Blue
Skin Colour: White
Zodiac Sign : Sagittarius
Children: 1 son together, Max Liron (b. January 12, 2008)
Pets: 2 papillon dogs, Chewy and Stinky

---
Christina's Inspirations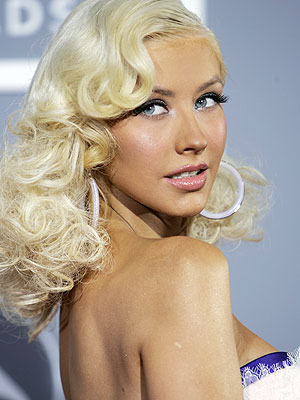 Christina Aguilera has said that her favourite beauty icon of all time is Marilyn Monroe!
Not suprised at all!
Christina says that everything she exuded was sensual and beautiful, and she had such a raw sex appeal. Agreed! Maybe thats where Christina copied the idea of adding a few drops of her favourite perfume to her bath from. Thats what Marilyn used to do!
Having the right smell is important. It stimulates important senses and is very seductive!

---
Christina Fun Facts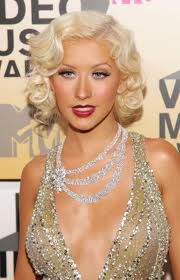 I've researched and researched about Christina Aguilera and there is award after award for her song and movie achievements. I've decided to pull out all the fun facts about Christina and make this as entertaining as possible.
As most of us know, Aguilera starred in Disney Channel's television series The Mickey Mouse Club from 1993–1994 alongside Justin Timberlake and Britney Spears.
10 years down the track and her and Britney end up singing together at 2003 MTV Music Video Awards, where both the ladies kiss Madonna. Christina kissing Madonna really didn't cause a fuss but oh did the kiss between Britney and Madonna do!
Christina has a small naughty side. She has been arrested On March 1, 2011 for public intoxication in West Hollywood. I have to say however, haven't we all had a little bit too much to drink on an odd occasion. Leave the girl alone!
Her hit songs include: My Reflection, Genie in a Bottle, What a Girl Wants, Nobody Wants to Be Lonely, Beautiful, Lady Marmalade, Dirrty, Fighter, No Other Man, Candyman, Not Myself Tonight
Her most recent movie, Burlesque, where she starred alongside Cher grossed over $90 million worldwide.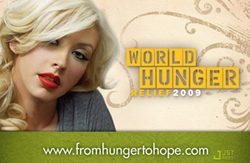 ---
Every beauty has a nasty story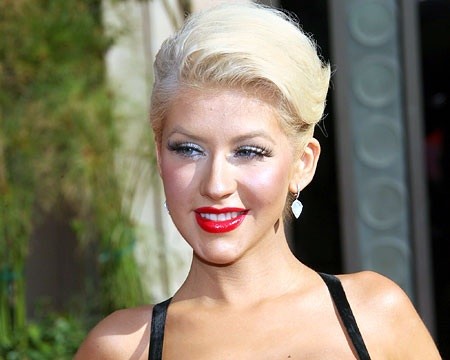 According to both Christina Aguilera and her mother, her father was very controlling, as well as physically and emotionally abusive. In an interview with Rolling Stone Aguilera revealed, "there was so much domestic violence going on when I grew up with my dad travelling in the military. I think the reason that my drive was so strong and I was so passionate about music was because I grew up in an environment of domestic violence."
The sexy momma was also bullied at school and had to be home schooled. Ha! Imagine all those bullies now! Should have been besties with this now famous, gorgeous and rich lady!
Her single "Dirrty" which she said better reflected her personality caused a lot of controversy.
I say go for it girl! Go for it!
2006 her album release back to basics is when the pin up aguilera began!
Her hair, lips, style, poses were absolutely PERFECT! She was born for this!
---
I found it actually really hard writing this page on Christina Aguilera. As a pin up and even before that, she had class, sexuality, yet a slight hint of innocence.
However that image drastically changed when she released her newest album 'Bionic', with one of her singles "Not myself tonight".
Now...I'm not one to say that I'm closed minded. Actually I'm the opposite.
I just see so much more potential in her and the video clip for her hit single from the album looked hideous. She looked kind of like a clown.
Sorry Christina...you just crushed my image of yourself and I respect you!
GO BACK TO BEING A PIN UP PLEASE :)
---
If you enjoyed this page you may also like:
Dita Von Teese
Red Lips-get the seductive Pin Up Red Lips
Get the Pin Up Look
---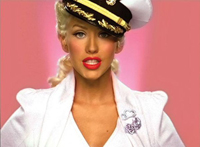 Return from Christina Aguilera to Pin Up Girls Page
Return from Christina Aguilera to Pin Up Passion Homepage