Pin Up Look - Everything You Need To Know To Get The Look

Get The Pin Up Look - the sexy look you've always desired!
Pin Up girls have been making men swoon and women jealous for over a century! They carry an undeniable sex appeal and an aurora of unmistakable confidence.
How can you get the pin up doll look that will make men pant?
You will need: (depending on the length of your hair you may need) bobby pins, hair spray, hair rolls, big curling brush, curling iron, bandana and any other hair accessories you like (these are additions and are not necessary).
Pick a 1940s hairstyle that complements your face shape. The classis 1940s hairstyle is usually a mixture of pin-curls, side-reverse rolls, or victory rolls. There are many books on the market that will teach you how to do these hairstyles yourself. For a quick look change, you can find a good wig. EBay is a great source for wigs or you can even have a very believable human hair lace front wig custom made in the style you like for under $500.
2.Be selective with your pin up make up
The 1940s produced a glamorous look that focused on 4 points:
eyebrows
eyelashes
eyes
and lips
Check out my best tip to get the PERFECT pin up skin-face, lips, eyes and your whole body in one! - click here

You will need: tweezers, ruler, eyebrow pencil.
Firstly you need to shape your eyebrows for the perfect look. Start off close to the bridge of your nose with a thick arch and as you get further towards the brow line, taper the brow off into a thinner line.
Once styled, eyebrows are emphasized with an eyebrow pencil. Make sure you chose a color that is the color of your hair or one shade lighter. Create a solid, defined line with the pencil. Fill it in.
Pin Up Eyelashes
You will need: black mascara, eyelash curler, fake eyelashes or extensions (if desired).
For the BEST Pin Up Look, eyes are to be emphasized as much as possible therefore you will use black mascara and/or fake eyelashes or extensions to compliment your real eyelashes. Always have an eyelash curler handy!

You will need: Eye shadows-neutral or dark brown and greys, dark colored liquid eyeliner.
Eye shadow colors should be neutral in dark browns or grays with highlighting that deepens the eyelid. Most importantly the eyelid will almost always be defined with deep colored (preferably black, but if black doesn't suit your skin tone you can try a dark grey, dark brown or dark blue) liquid eyeliner that wings out at the outermost corners of your lids.
This creates a "cat eye" effect.

You will need: BRIGHT RED LIPPY! Lip color should be as dark and deep red as your skin tone allows.
Such an important step to getting the Pin Up Look. If you're not used to wearing lip stick...well, it's just become your best friend.
The lips are lined in the same color as the lipstick. Outline your lips to the very edges or slightly beyond your lip line (be reasonable-you want it to look sexy, not like you don't know what you're doing with your make up).
You want to have the fullest lips you can have. Make sure you carry your lipstick with you everywhere too! You can't afford to have imperfect lips!
It's true! I even have Pin Up friends that go to the gym in red lipstick!
Further make up FYI for the Pin Up Look:
Cheek rouge should produce the effect of a slight blush, I recommend using a deep pink.
Foundation is VERY important for the pin up look. This is a no brainer. Most Pin Ups have perfect and flawless skin and their skin is usually quite pale if they are Caucasian. Good excuse to stay out of the sun and save your skin from wrinkles, skin cancer, sunspots and other imperfections.
Make sure you prepare your skin as best as possible to make it smooth as a babies bum and as close to perfection as can be.
Want to get the Pin Up look? Dress like a Pin Up as often as possible. True pin up models do not just stop being sexy after a photo shoot, it's important to always convey beauty and glamor. You can purchase vintage clothing online, second hand shops are great or vintage reproduction from company's such as Bettie Page Clothing, Stop Staring!, Miss Hussy, amongst others!
4. Clothing for photo shoots
Invest in some quality costuming for your photos. You can search through artists such as Alberto Vargas or Gil Elvgren for ideas. Some of the most popular images were around WWII and featured women dressed as sailors, nurses, and in army uniforms. Make your own or purchase them online! Check out some of the clothes the famous Pin Ups have used for their photo shoots. Maybe you can steal some of their ideas?
5. Pin Up Lingerie! Ohhhhh so important!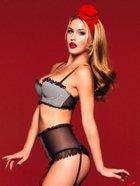 Never underestimate the power of undergarments! One of the most defining parts of any pin-up image is proper hosiery which is usually vintage thigh highs with classic girdles. Bullet bras make any sweater a hundred times sexier!
If you weren't born with bombshell curves, corsets are a fine way to fake it! But the bottom line is, go into your underwear draw right now and get rid of those frilly, printed, baggy and crappy material granny undies. Next step…go shopping! Buy buy buy as many sexy undergarments as you can! Don't have anyone to show off the lingerie to? WHO CARES!
Every time you put on these undergarments, even if no one ever sees or knows about them you feel oh so much better about yourself. Guaranteed!
As Dita Von Teese says "I love it when you can go about your daily business with the knowledge that you have a little secret of your own on underneath".
We love you Dita!
6. Pin Up Shoes
This bit if FUN! Let's summarize by saying the higher the heels, the closer to God you are :)
(no matter who your God is…just make the heels high!).
Shoes are very important, luckily for us pin-ups contemporary stores have been selling tons of vintage designs. The 1940s generally featured platforms with open-toes, peep-toe pumps with wide heels or for an even sexier look - sky-high stilettos.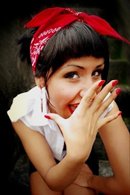 7. Pin Up Nails
Small detail but so important! Just to re-enforce. Pin Up = glamor…ALL the time!
Well manicured fingernails create a more professional and polished look. Traditionally 1940s nails featured deep red shades with crescent moons at the cuticle (kind of the opposite of a French Manicure). I like the plain deep red nails myself. Much easier to do also. Don't forget to pedicure your feet and paint your toenails to match.
8. MOST IMPORTANT NOTE!
Last but certainly not least the key to any successful pin up look is CONFIDENCE! No Pin Up is complete without it. Confidence (and perhaps a good pair of high heels) will help your posture and your photos. Remember ladies, nothing is sexier!
Living the lifestyle of a Pin-Up Model means being glamorous even without cameras around!
Scroll down below to see the A-Z's of the secrets to the Pin Up Look

Pin Up Girl Eye Make Up
Get the sexy "cat eye" look!
Read More...

Pin Up Girl Hairstyles
Learn all there is to know about Pin Up Girl Hairstyles. From preparing your hair, caring for it, the range of styles for short, medium and long hair and more!
Read More...

Pin Up Girl Red Lips
Seductive, bright red, full Pin Up lips. Learn how to get the those irresistible lips!
Read More...
Pin Up Girl Make Up
Learn all there is to know about Pin Up Make Up. From preparing your skin for the make up, lipstick, foundation, blush, eyeliner and much more!
Read More...
Pin Up Girl Eyebrows
Learn all there is to know about shaping and creating the perfect Pin Up eyebrows. From tweezing them correctly to your face shape, to choosing the right eyebrow pencil shade for your skin, how to color in your eyebrows correctly and much more!
Read More...
Return from Pin Up Look to Pin Up Homepage