Pinup Makeup
Achieve a pinup makeup look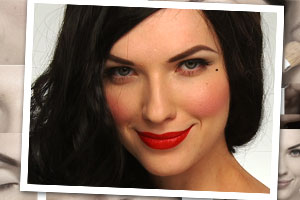 How sexy is Pinup makeup! Have you seen those pin up girls and wished to look exactly like them! Well, surprise suprise! You can! How? By applying Pinup makeup.
Why?
Because you want to look like those gorgeous girls and it's amazing. Yes, your face will be transformed into something more after this makeup has been applied. You will look like a model or a movie star. The best thing about pin up makeup as well is that it can go with any outfit that you like.


Pinup makeup evokes a beautiful aura and can brighten your entire day and even the days of those around you.
Some women prefers this makeup to look different for a day or night while others tone it down slightly for the day and for the night, they usually make it a little bolder.
However...
There are some those who are truly dedicated, keeps a pretty consistent pinup makeup for the day and for the night but they tone it down a bit when it comes to the thickness of their cat eye make up, the brightness of their red lipstick and they usually don't use as much blush on their cheeks.
Back in the days...
If you have an alarming red lips and you put on emphasis to the eyes, that's it and you will look stunning!
Sometimes, women do want to live in the 50s because of this. So, we know that you can't acquire some sexy curves or you won't be looking like Kate Moss anytime soon, but who says you can't look stunningly beautiful? With Pinup makeup, there's no point anymore on obsessing on getting curves to die for, because putting on this makeup can make you look like the most beautiful woman in the world.
Now, let's talk about the star in Breakfast at Tiffany's, Audrey Hepburn or Holly Golightly in the movie itself.
A pin up model during the 50's and she has contributed a great deal in the history of pin up. What made her one of the most beautiful pin up models? Her flaming red lips, dark black eyes, and that charming smile. Now, she is a fashion icon not only to her fans but to other celebrities today all over the world and most of them are pin-up enthusiasts.
You might be getting tired of the constant droning so here it is, how to apply Pinup makeup.
Step 1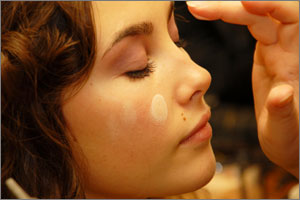 The best foundation is the main key. You must choose a suitable shade that goes accordingly to your skin tone.
If you have the unavoidable pimples or wrinkles which are pretty much unavoidable and the downside of being human(just kidding), then make sure that you have a concealer to conceal those unwanted facial marks.
Step 2
Now, you should open up the eyes and go for a champagne or shimmery light eye shadow on the lids of the eyes from the lashes to the ridge of your brow. A generous amount would do the trick until the depth and highlight that satisfies you. You have to open up those eyes!A dark eye shadow like dark brown or those that looks natural is a best idea. Apply in your creases and blend it nicely.
Step 3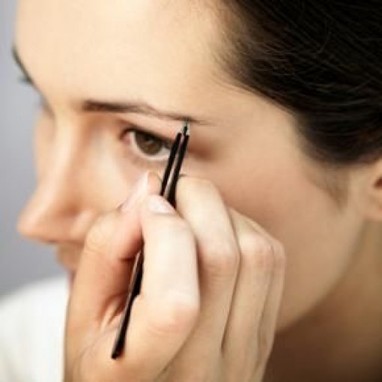 Now, it's time to accentuate your brows! Comb it and apply a matte eye shadow or eyeliner. It would be much better if you apply a darker color of eye shadow or liner. You can achieve a more natural look if you use an angled liner brush on the brows.
Step 4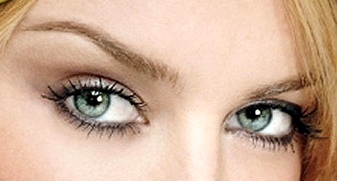 Your cat-like eyes are almost finished but you still have to draw a thin line over your lashes. If you have a liquid eyeliner, then it'd be great but make sure that you also have a fine tip liner brush. How do you do this finale? Start from the inner corner towards the outer of your eye. You have to make sure that the line gets thicker as you work towards the outer tip.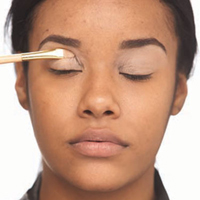 Step 5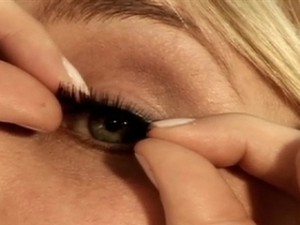 To make the whole Pinup makeup process more fun, it's time to put on those false eyelashes you can't wait to use! However, you must know that for beginners, be patient! All first timers find putting it on very tricky, but you'll get the hang of it sooner or later! You have to cut the fake eyelashes to the size of your real eyes and remove the fake eyelashes from the container gently by pressing it down lightly onto the fake lashes part. Squeeze the eyelashes glue gently so you can have a bit of glue running on the side of the nozle out of it which it came. Apply a small amount of glue to the rail of the eyelashes and let it dry for about 30 seconds.
Step 6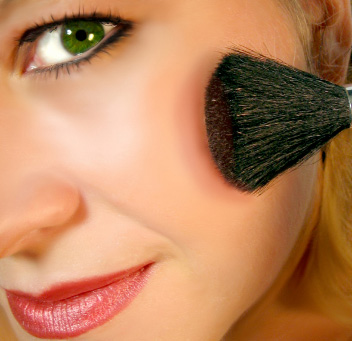 To put some color on your cheeks, add a light pink shade or natural hues powder blush to the apples of your cheek. This is for your daytime look. For your nighttime look, a bright pink blush would do the trick!
Step 7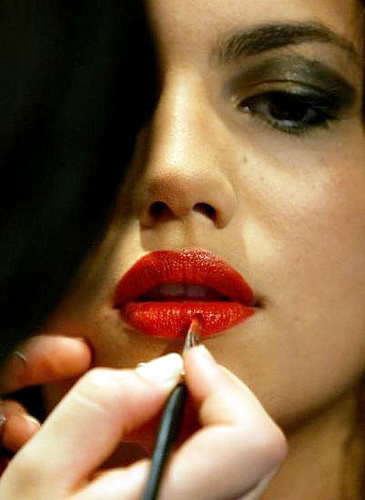 Now, it's time to color your lips an alarming red for a more pin up look. Emphasize your lips with your hto red lipstick and make sure to use a lip liner to prevent smudges.
Step 8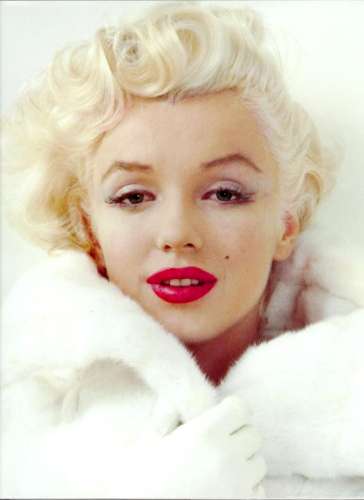 Lastly, draw a mole like most pin up models have! Now, you're going to look like a movie star!


Back in the days, pin up models were like the supermodels we have today. They were like the Victoria's Secret Angels! Today, more and more models and superstars are feeling nostalgic and applying Pinup makeup on their faces. The classic will never go, its timeless beauty will always remain in the hearts of people.
---
If you liked this page you may also like:
---
Return from PinUp Makeup to Pin Up Passion Homepage