Pinup Makeup - Achieve the ultimate pin up look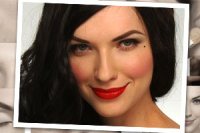 Pinup makeup is the classical and timeless look which glamorizes any woman and makes the best features stand out.
Have you ever seen those pin up girls and wished to look exactly like them! Well, surprise, surprise!
You can!
For most vintage die hards, the make up is a must on a daily basis.
The modern pin up queen, Dita Von Teese blatantly states that she will never leave the house without her red lipstick.
It makes her feels sexy.
And if it does the same for you, then even in the early morning don't hesitate to wear this look. It's all about making you feel a $1,000,000.
So let's get into it...
Here it is - how to apply pin up makeup step by step.
Step 1 - Foundation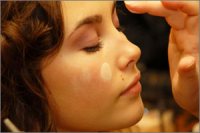 The best foundation is the main key. You must choose a suitable shade that goes accordingly to your skin tone.
If you have the unavoidable pimples or wrinkles which are pretty much unavoidable and the downside of being human(just kidding), then make sure that you have a concealer to conceal those unwanted facial marks.
Step 2 - Simple Eyeshadow
Now, you should open up the eyes and go for a champagne or shimmery light eye shadow on the lids of the eyes from the lashes to the ridge of your brow. A generous amount would do the trick until the depth and highlight that satisfies you. You have to open up those eyes!
A dark eye shadow like dark brown or those that looks natural is a best idea. Apply in your creases and blend it nicely.
Step 3 - It's Brow Time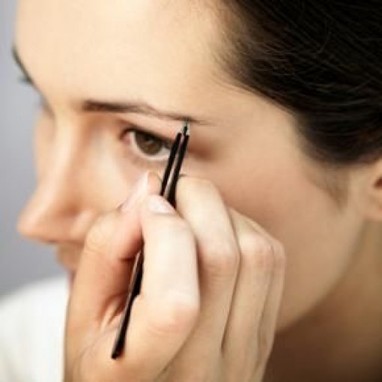 Now, it's time to accentuate your brows! Comb it and apply a matte eye shadow or eyeliner.
It would be much better if you apply a darker color of eye shadow or liner.
You can achieve a more natural look if you use an angled liner brush on the brows.
Step 4 - The Cat Eye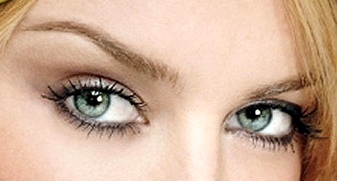 Your cat-like eyes are almost finished but you still have to draw a thin line over your lashes. If you have a liquid eyeliner, then it'd be great but make sure that you also have a fine tip liner brush. How do you do this finale? Start from the inner corner towards the outer of your eye. You have to make sure that the line gets thicker as you work towards the outer tip.
Step 5 - False Eyelashes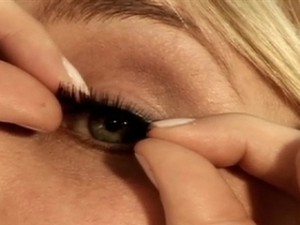 To make the whole Pinup makeup process more fun, it's time to put on those false eyelashes you can't wait to use! However, you must know that for beginners, be patient! All first timers find putting it on very tricky, but you'll get the hang of it sooner or later! You have to cut the fake eyelashes to the size of your real eyes and remove the fake eyelashes from the container gently by pressing it down lightly onto the fake lashes part.
Squeeze the eyelashes glue gently so you can have a bit of glue running on the side of the nozzle out of it which it came. Apply a small amount of glue to the rail of the eyelashes and let it dry for about 30 seconds.
Step 6 - Blush The Cheeks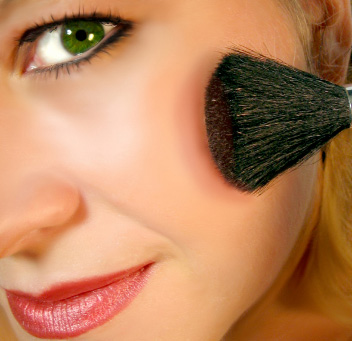 To put some color on your cheeks, add a light pink shade or natural hues powder blush to the apples of your cheek.
This is for your daytime look.
For your nighttime look, a bright pink blush would do the trick!
Step 7 - Passion Is Red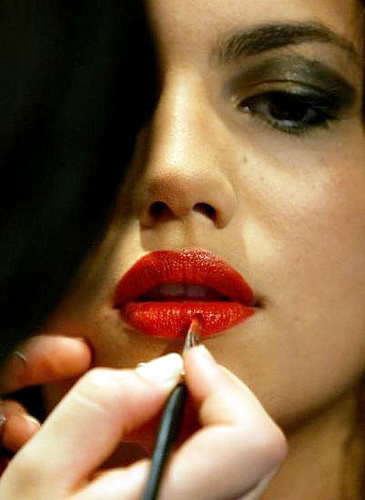 Well it's quite clear that the pinup makeup look is well known for the bright red lips.
It's what completes this glamor look and adds elegance to the lady and any outfit of choice.
So now...it's time to color your lips an alarming red. Emphasize your lips with your hot red lipstick and make sure to use a lip liner to prevent smudges.
If you're unsure of what color red lipstick will suit your skin tone, check out this article here.
And if you want to learn the ultimate way of keeping your lipstick lasting longer, click here.
Step 8 - The Famous Beauty Spot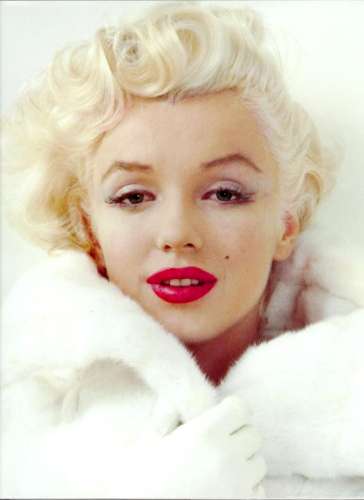 Lastly, draw a mole like most pin up models have! Now, you're going to look like a movie star with your complete pinup makeup!
Well done...
Now that you have mastered the make up, you can't go without the signature pin up hair.
Check out this page to discover a range of very simple pin up hairstyles you can start wearing today - click here.
---
If you liked this page you may also like:

---
Return from PinUp Makeup to Pin Up Passion Homepage