Bettie Page
Beautiful, sexy and seductive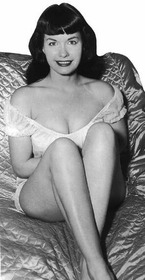 Who is Bettie Page?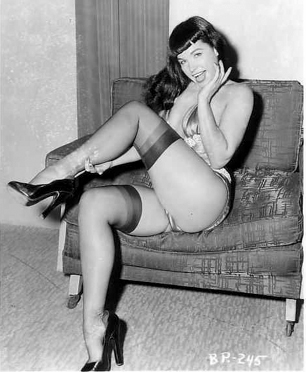 Real name: Bettie Mae Page
Birthday: April 22, 1923
Birthplace: Nashville, Tennessee
Trademark look: jet black hair, blue eyes, bangs
Height: 5'5 ½
Eye color: Blue-Gray
Hair Color: Naturally black
Weight during the 1950's while modeling: 128-130 lbs.






The start of her pin up career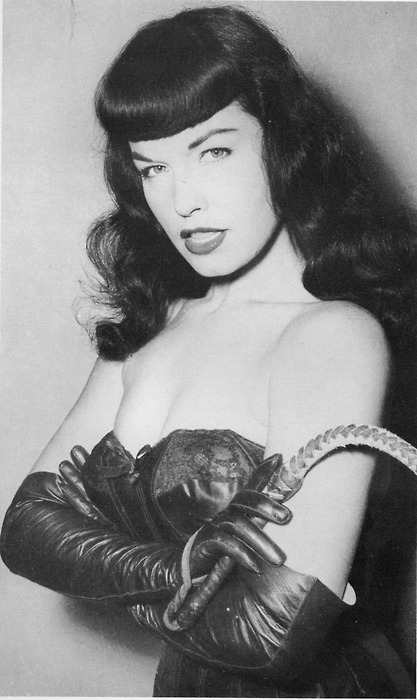 Unlike other models, she did not start her modeling career until she was 27 years old and she wasn't the most famous model during that time. She reached the peak of her stardom when she was 31 when she appeared in Playboy magazine as the January 1955 centerfold.
She has been on more magazine covers than Marilyn Monroe or Cindy Crawford.
She is considered as the Queen of Pin ups!
She as also "Miss January 1955", one of the earliest Playmates of the Month for Playboy magazine. In the year of 1959, she converted to born-again Christianity and worked for Billy Graham.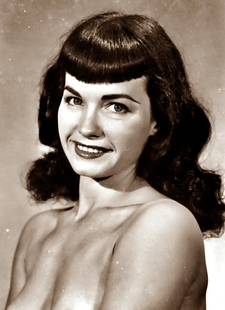 "For years I had my hair parted down the middle in a ponytail, tucked down around the sides... Well, I went and cut the bangs, and I've been wearing them ever since. They say it's my trademark." - Bettie Page
Personal life
Her mother, Edna was part Cherokee and her family was very religious. She was the second of six children. During her youngster years, she had a fascination for makeup and loved to play around with it with her sisters. They loved to imitate their favorite movie stars.
She also learned to sew. These skills proved useful years later for her pin up photography when Bettie did her own makeup and hair and made her own bikinis and costume.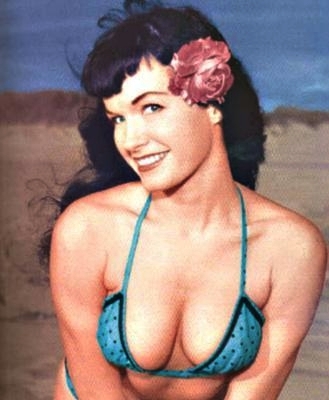 She was a good student and debate team member and she was also voted "Most Likely to Succeed". She graduated salutatorian of her high school class with a scholarship and enrolled in college to become a teacher.
However, the next fall gave different results because she started studying acting with her focused switched to that.
Her pin up career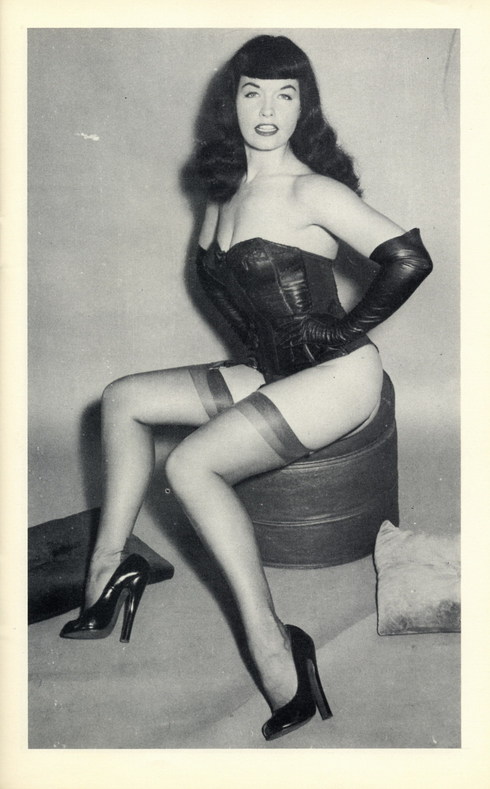 After she got her college degree, she married her high school classmate Billy Neal, but unfortunately she filed for divorce in November 1947.
Following her divorce, she worked for a brief period in San Francisco and in Haiti. In 1943, she moved to New York City where she hoped to find work as an actress.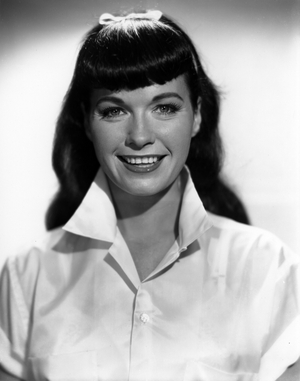 In the meantime, she supported herself by working as a secretary. In 1950, she met Jerry Tibbs, a police officer with an interest in photography. She was a willing model and Tibbs took pictures of her and put together her first pin up portfolio.
In the late 1940s, there were camera clubs formed to restrict the production of nude photos and to promote artistic photography but in reality, many were merely fronts for making of pornography. Bettie Page entered the field of famous photography as a popular camera club model, working initially with photographer Cass Carr.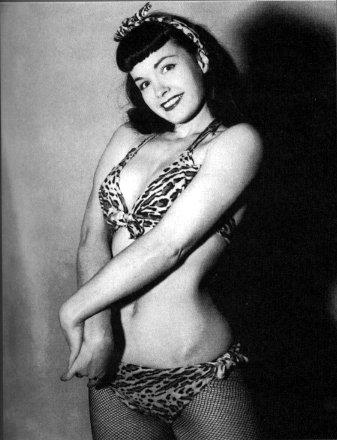 Her lack of restrictions in posing made her a hit and her name and image became quickly known in the erotic photographic industry. That is when her career started to shoot like a rocket until she met Hugh Hefner and was acknowledged as the Queen of Pinups.
She died on December 11, 2008.
Bettie Page also has some amazing quotes. Check them out here.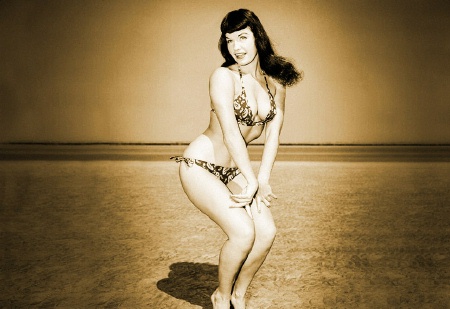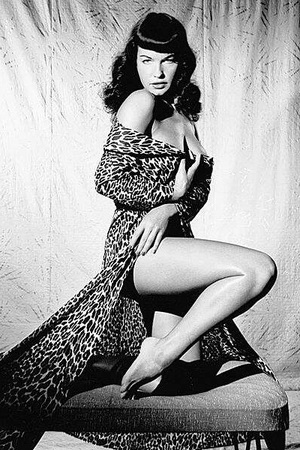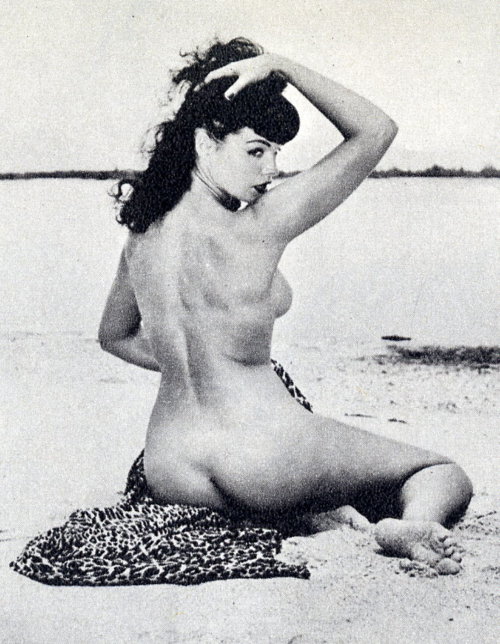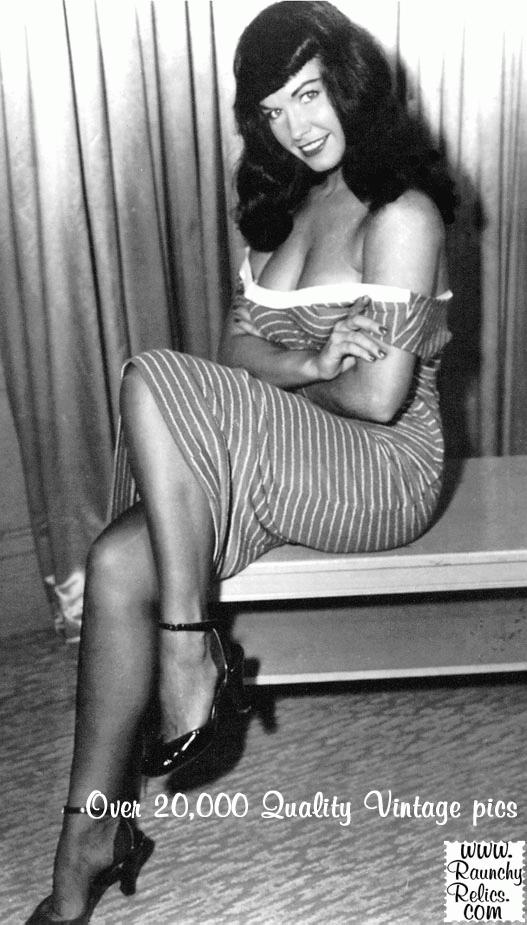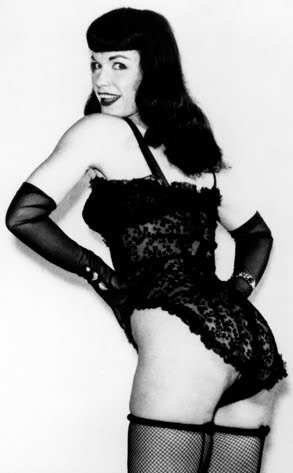 Bettie Page also has some amazing quotes. Check them out here.