Gia Genevieve - A Pin Up Model With An Unforgettable Look


Gia Genevieve is slowly climbing the ladder in the modeling industry to become one of the most memorable faces of the 21st century.
Her look is undoubtedly as captivating as our favorite Hollywood icons such as Jayne Mansfield and Marilyn Monroe.
We sat down with Gia and had a heart to heart about a range of topics, from body image, to her inspiration behind her look, what outfit she feels sexiest in, how she has gotten to where she is today and more.
1) What inspired you to get into pin up modelling and how long have you been doing it?
I have always loved the pinups of the 40's and 50's. I have been very inspired by that era. When I gathered up the confidence I started shooting with wonderful people and it just took off from there.

2) Who do you draw on for inspiration for your look?
Right now I am very inspired by Jayne Mansfield. She had the most beautiful curves and smile. when I was a red head, I drew my inspiration from Jessica Rabbit. Dita Von Teese is also a huge inspiration. That woman has style and class and I greatly admire her.


3) What is confidence to you and how have you become so confident?

Confidence is everything. Especially when shooting. It comes through in your photos when you feel uncomfortable. I have my moments of insecurity like any woman does. It's hard not to look at a Vogue and think, why do they not have cellulite? But I've learned to accept my body for what it is and do my best to work with what I have instead of being mad about what I don't.

4) Have you always been comfortable in your skin? If no, what changed?

I wasn't always. I was very very insecure growing up. I was made fun of because I had boobs since I was 8. I always thought I was overweight and uncomfortable around other girls. It changed when I realized skinny wasn't the only body type that could be beautiful. I dress appropriately for my body shape. Now I feel like a million bucks most of the time.

5) What sort of exercises do you do to maintain your awesome curves?

I'm really not a work out bunny at all but when I do get in the zone I'll hike a few miles in the Hollywood hills. 'Im not a big fan of being in the gym with a ton of meatheads. 6) Red Hair or Blonde Hair? I love both but I'm really into the blonde right now! I've always loved blonde bombshells like Anna Nicole, Jayne Mansfield and Marilyn Monroe.


7) What is your favorite pin up outfit?

My favorite outfit is a tight long pencil skirt and pretty blouse. I think that's what looks best on my body type.

8 ) What item in your wardrobe makes you feel sexiest?

I have this see through mint green babydoll nighty that I wear around the house with nothing else on. It's my man's favorite outfit on me.

9) What advice do you have for doing pinup on a budget?

Learn how to do your own hair and makeup. Micheline Pitt has a great DVD out that teaches you both! I also watched a lot of YouTube hair tutorials. eBay is also great for finding cute inexpensive vintage lingerie to shoot in.


10) What are your top 3 tips for the pin up look?

Red lips are a must. Learn to do a victory roll. It never fails to get compliments. Great eyebrows - I'm a big fan of a high arch.

11) Gia Genevieve, how long did it take you to get to where you're at now as a model and what was the big break for you?

I have been modelling for about 4 years. I think my biggest break was modelling for pinupgirlclothing.com. I started working for them very early on in my career and they taught me a lot of things.

12) What does an average day in the life of Gia look like?

My life is pretty boring when I'm not shooting. My man and I will wake up and ride on his bike to get coffee or lunch. I'll clean up the house and do some laundry. I'll make dinner and then head to an AA meeting as I'm now sober 13 months. Then we'll watch a ton of TV. I'm kind of addicted to Netflix these days. I find focusing on my career and living the slow life is the most fulfilling. On weekends I'll cruise the LA flea markets and look for great vintage goodies.

13) For all the ladies out there too afraid to do pin up or pin up modelling, what solid Gia Genevieve advise would you give them?
Pinup is something you do because you love it, not because you are looking to make money or get famous. That takes a lot of the fun out it. If its your passion, then I say go for it! Don't care what other people think of you.
Connect with Gia Genevieve on Facebook by clicking here
Share your thoughts on the interview below - What is your favorite part of the interview? What else would you want to hear about from Gia?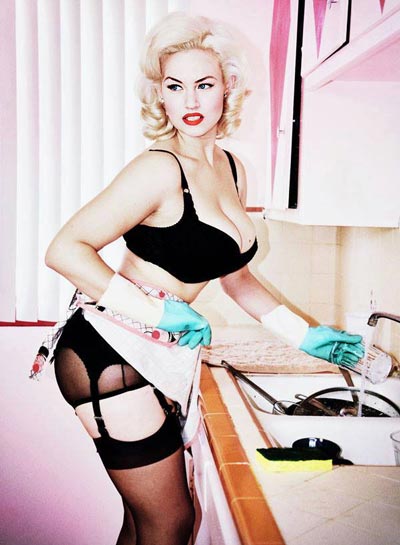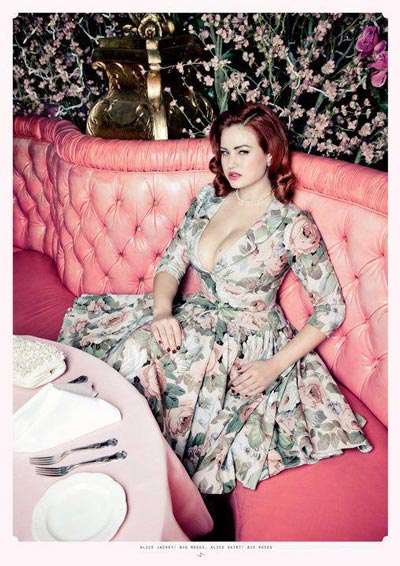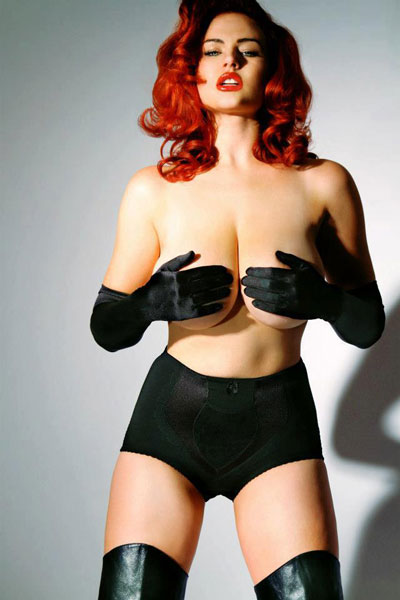 Connect with Gia Genevieve on Facebook by clicking here
Return from Gia Genevieve to Pin Up Passion Homepage