Pin Up Of The Month of June 2011
Miss Nicole Dawson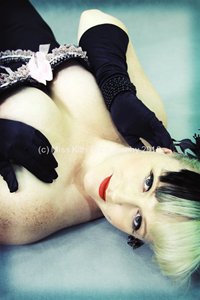 Stunning and classy photo. Photo taken by Miss Kitty Photography
About Miss Nicole:
Nicole Dawson is a rockabilly doll and lover of all things vintage, wholiterally fell into the Pinup scene by chance having always been a lover ofElvis and all things 1950s and kitsch.
Having worked with some amazing people in the industry, and having made somewonderful friends along the way, a change of direction has been heralded.
A school teacher by day, Nicole is working on designing her own line of vintageinspired accessories and hair pieces, under the badge 'Catalina Colie', withthe ultimate goal of being behind the camera, and taking Pinup Photos forothers.
Catalina Colie website is currently under development and be sure to look outfor it online.
In the meantime be sure to look her up on Facebook.
Is It Your Time To Shine...?
Have you always wanted to make it big in the pin up modelling world?
Have you always wanted to have your photo on a website for the world to see?
If you think you have the right look and want to show your best pin up photo go to our Pin Up Passion Facebook page, upload your photo and get as many of your friends to vote on your photo. The most likes becomes our Pin Up of The Month on PinUpPassion.com!
Make sure the photo is clear, fun and of good quality...the better the photo the better your chances of winning, also make sure you attach a story to it so that we can all get to know you better!
You have a great opportunity to increase your chances of getting famous!
---
If you liked this page you may also like:
---
---
Have Your Say...
---
Return from Pin Up Of Month Of May 2011To Current Pin Up Of The Month

Return from Pin Up Of Month of May 2011 To Pin Up Passion Homepage