Dita Von Teese wedding
Stunning Pin Up Wedding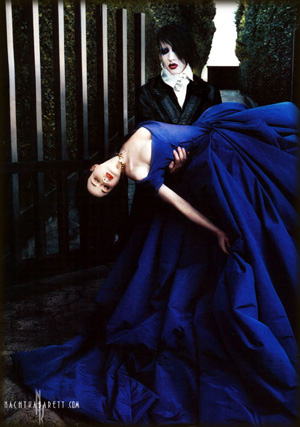 Dita Von Teese wedding was glamorous as we would except from this pin up queen.
From the woman that embraces glamour "every minute of every day" this day was no different. Glamour was the main theme around this wedding.
Dita Von Teese is no longer with the rock artist Marilyn Manson (see Manson without make up here).
It appeared they were well suited for each other, however she has moved onto a different men with not such an outrageous sense of fashion style.
Her new boyfriend is one sexy man, Count Louis-Marie de Castelbajac.
He is 27 years old.
Dita Von Teese is 39.
HIGH FIVE DITA!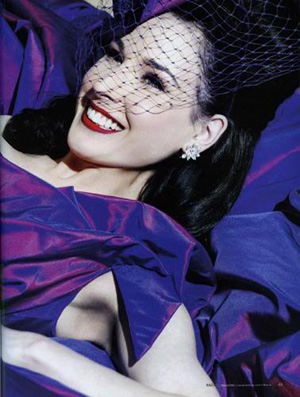 So we all wonder, what a Pin Up queen like Dita Von Teese would look like on her wedding day.
White slim dress? Big white dress?
Black wedding dress? Red wedding dress?
Nope…none of the above. Dita does it her own way and yes mam' she looks gooood!
The gown is an over the top Vivienne Westwood gown. It's outrageous, completely unique and certainly her style.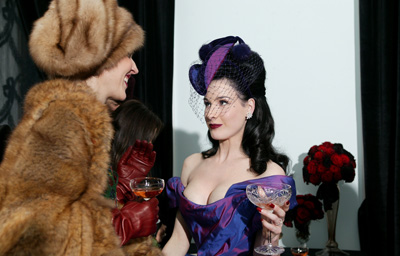 I don't think I know any other person in the world that could pull off wearing this dress…any day…
Her makeup was equally stunning. The classical pin up make up look.
I absolutely adore the different take she has on her wedding. I love her wedding photos where she pretends to be dead and is carried my Manson...yes...ok that is a little weird, but it certainly suits their style. The perfect Dita Von Teese Wedding.
Even though the divorce of the two has occurred, I can absolutely see why the connection was there.
The pair apparently split due to unsolvable differences and it was said by Dita that Mason had started to gain interest in other women and Miss Von Teese isn't one to share.
I say good! Why would you need anyone else but Dita!
What are your thoughts on Dita's dress? Leave your comments below.
Lover of all pin ups,
Sorelle <3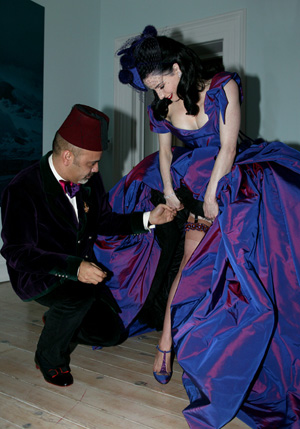 ---
If you enjoyed the article on Dita's wedding to Manson, connect with me (aka Sorelle Amore) here:
https://www.facebook.com/SorellePinUpPassion


Photo by Sassy Studios
---
If you liked this page you may also like:
Return from Dita Von Teese Wedding to Dita Von Teese Quotes

Return to Pin Up Passion Homepage