Pinup Tattoos - Amazing women showcased in ink on your skin!
Pinup Tattoos-show off your tattoos here!
Pictures of these glamour queens have been a favourite piece of art to get permanently added to human bodies for years.
And why wouldn't they be?
They represent the best in women. Class. Innocence. Unreal sex appeal. Elegance.
How to chose the best pin-up tattoo for you!
There are soooo many designs of pin ups available out there because they are so popular. Most likely you will walk into a tattoo parlour and they will provide you with a book of a trillion different pin ups you can get permanently inked on you.
You may chose to get a tattoo design for various reasons:
1) Because you want to
2) You think it looks cool
3) It has special meaning to you
4) You want to be a rebel
5) Your mom told you to.
It doesn't depend on anyone why you get inked. Most important thing is, make sure you like the design and the placement and think about these two things:
When you're old and wrinkly, will you regret it?
If you have a job that requires you to be professional, will the placement of the tattoo prevent you from being professional and getting into the profession you want to?
If you answered no to both of the above questions just do it! But really think about it!
We all love pin up girls, who wouldn't? That's why most people choose to have pinup tattoos on their bodies!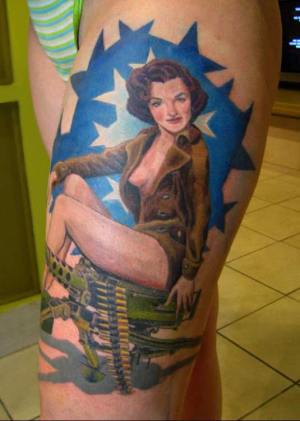 Now, if you're thinking about getting inked, then there are a lot of pinup tattoos for you to choose from!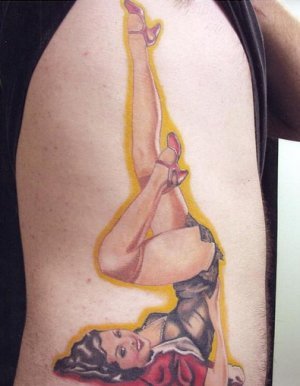 These attoos often revolve on pin up icons like, Betty Grable and Bettie Page. They are often seen inked on the bodies of men and women who chose to have such tattoos. There is nothing wrong with these tattoos, in fact, it is a wonderful idea!
This will definitely set you apart from people who have tattoos because yours will be so much sexier.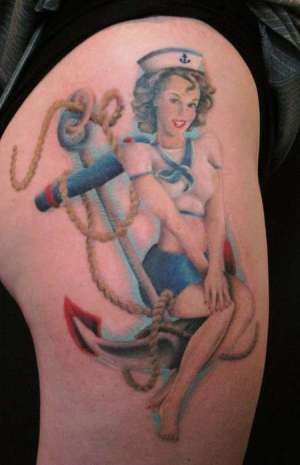 Aside from this, these tattoos represents history and beautiful women. Although they are considered to be sex symbols back then, they are now considered as role models and icons of the ideal women.
Having one or even a couple of these tattoos on your body will express your love and appreciate for them and how much you value their contribution to women today. Or...more realistically...you just love how amazing these women are! :)
I looove pin up tats...
These designs harken back to an earlier simpler time, and they have a great vintage feel to them.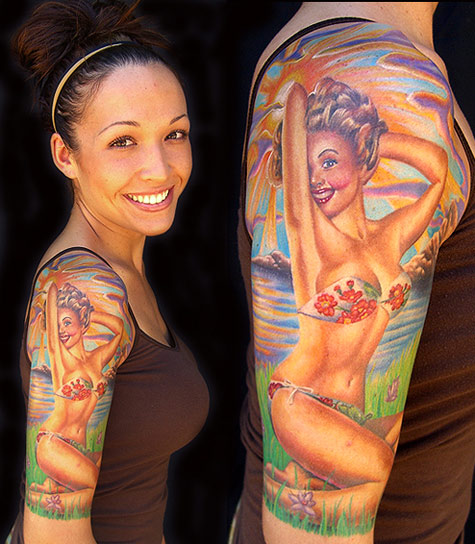 These tattoos are gaining more popularity these days as people look fondly back upon the past. When you are having your pin up girl tattoo, you might want to tell your artist to exaggerate on it a little bit. Tell your artist to use bright colors and stylistic license when drafting it. This will look great on your skin and will look totally noticeable which is something you want in the first place!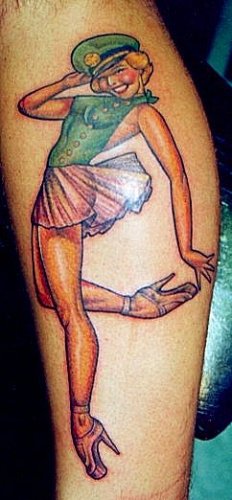 I really like this video of this guy that talks about how to chose your tattoo.


Don't forget to upload a picture of your amazing pin up tattoo below!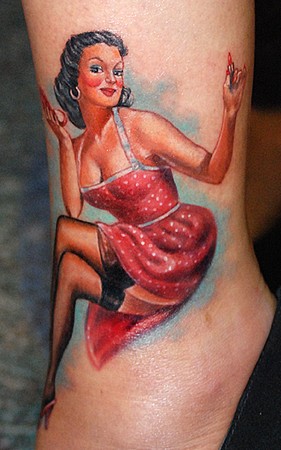 Want To Show Off Your Best Pin Up Tattoo?
Do you have a great pin up tattoo? Share it!

Tell us where you had it done, when and why!


What Other Visitors Have Said
Click below to see contributions from other visitors to this page...