B-25 Mitchell on bombing run w/ nose cone Pin up Tattoo
by Pete Mueller
(Milwaukee WI)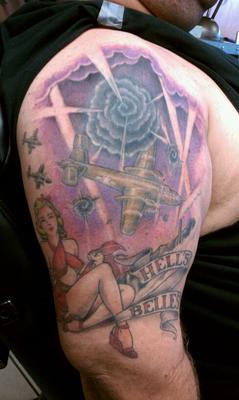 B-25 Mitchell / Pin up
Hells Belles

This is a tribute to my grandpa Pete. He was a tail gunner (as he put it the best seat in the house) in a B-25 Mitchell during WWII. He was stationed in North Africa and was one of the greatest generation. The pin up was adapted from the nose cone art and the plane was named Hells Belles. I still have some more hours left in the chair, this is a work in progress, aren't they all?
This great piece of art I am proud to wear comes from the mind and hand of tattoo artist Dick Cseri. He works out of Waukesha Tattoo Company in Waukesha Wisconsin,
Join in and write your own page! It's easy to do. How? Simply click here to return to Upload your Best Pin Up Tattoo Photos.