My Pin-Up Tat
by Steve Dunn
(Battle Ground, WA)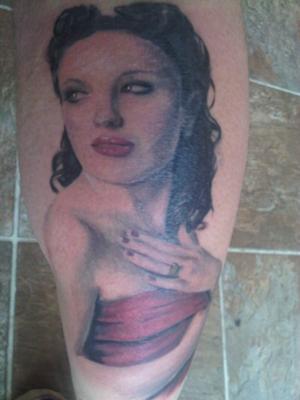 My Pin-Up Wife
I originally got the idea for my tattoo after my 30th birthday when my wife had pin-up pictures done for me.

It took a year of saving up, but after seeing the pictures that were made, I really had no choice.

Almost 2 years ago, in May of 2010, I went into Golden Hearts Tattoo, in Vancouver, WA.

I didn't know what to expect, other than I wanted to get this gorgeous photo tattooed on the back of my leg. I met an artist named Kimber, whose portfolio was amazing.

2 sessions and 16 hours later, I have my tattoo. I just had to have it just to show how hot my wife is and how committed I am to her. I hope you all enjoy it as I have.