Olivia De Berardinis
Sexy & Femine Modern Day Pin Up Art
Who is Olivia De Berardinis?
She is is an American artist that is known for paintings of women that are considered cheesecake or pin up art. She has been working in this field since the mid-70's. Since 2004, she has been a monthly contributor to Playboy Magazine.
Born in Long Beach, Califonia she was inspired by her mother as she would spend hours drawing her in various pretenses.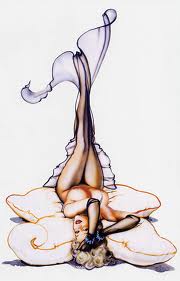 "I was born in 1948 in Long Beach, California, but spent most of my childhood on the east coast. As a small child, I was provided pencils and paper to amuse myself. I would spend hours drawing my mother sleeping on the couch, mother dancing around the house, and in general the perils of being her."
She studied in New York School of Visual Arts and from them on, she has gained a lot of awards. That was the start of her career and she became recognized by a lot of people. She moved to Soho, NYC and that was when she showcased her works or art or her artworks became even more recognized by experts. She was acknowledged by it and this has brought her more fame.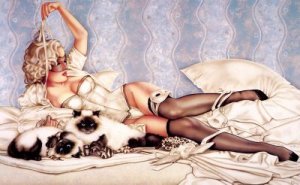 "Necessity shaped my career, I thought illustrating for sex magazines might be a fun temporary job until my "real" career started. In the back of my mind I believed I would go back to the fine arts. It wasn't clear to me then, but this work became my art."
When the year 1975 entered, financial pressures started pouring in and this forced her to that urged her to pursue commercial artwork and because of this, she reconciled with her skills that she had gained when she was a child, painting women. This led doors to open for her because she was given jobs and she worked for periodicals, publishers, movie posters and advertisements. This sudden turn of events in her life led her to have a more secured regular work and that is when she started to paint erotic fantasies for men's magazines.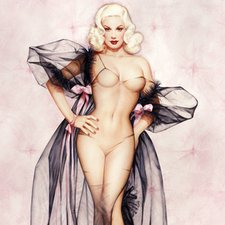 In the year 1975, she met the love of her life, Joel Beren and afte rbeing a couple for four years, they decided to get married. They lived in Manhattan's Upper West Side and they also developed a small publishing business, O Cards that prints Olivia's work as greeting cards. They also created another company, Ozone Productions, Ltd. To license her artwork
In 1984, she met Robert and Tamara Bane who appreciated her artworks and that let to contracts where she signed her first fine art publishing agreement with Robert and Tamara Bane's publishing business. Her artworks became even more popular because of that and fortunately, the year 1987 brought Olivia her own gala, one-woman show of her artworks that took place at the Tamara Bane Gallery in Los Angeles.
Olivia is currently living in Los Angeles with her husband. Olivia is currently living in Los Angeles with her husband.
Many pin ups all over the world can only dream to be painted by this exceptionally talented women.
Only the best of the best get chosen for this...women such as Dita Von Teese and Masuimi Max.