Scarlett Rose
by Kelli Ann
(Tucson, AZ)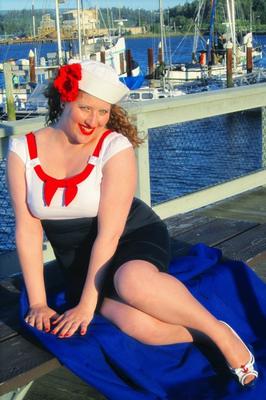 Scarlett Rose and the sailor shoot!
What started out as a dream soon came to fruition, and Scarlett Cherry Rose was created. Fashioned in retro pin up with a fun twist, her bright blue eyes and curly red hair set the stage for this fierce lady.

Scarlett is a pin up model and singer. She became a pin up model when her partner decided that she was just too cute and started taking her picture. It progressed from there.

Scarlett loves the limelight and is always up for new photography gigs. Additionally she is creating a website on how to dress like a modern pin up girl, including hair, makeup and wardrobe tips. She is also starting to dabble in burlesque performance.

Currently she has a Facebook page but she is working on her website so be on the lookout for it! Her fan page is Scarlett Cherry Rose so friend her there and watch for more to come!