Sara Jean
by Sara Jean
(Washington, DC)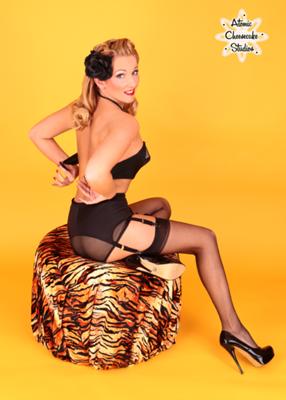 Hey Guys & Dolls! My name is Sara Jean and I am the baby of modern Pin Up's at the age of 18.

From the day I turned legal I started booking Pin Up shoots to try and pursue my career.

I am absolutely obsessed with the era. Something is so sexy about a girl that has curves and a big smile on a classic face :)

I have never met a man that has not chosen a Pin Up over a Supermodel.

Maybe I am biased because I am surrounded by military men. I love flipping through books like The Great American Pin-Up and practicing the poses and faces!

A fun fact is that I am also a Children's Theatre major.

What a silly combo, right?

I want to change the idea of beauty back to what it used to be.

Ladies are too hard on themselves.

I think some hot rollers, heals and red lipstick does wonders!
Join in and write your own page! It's easy to do. How? Simply click here to return to Upload YOUR Best Pin Up Photo.