Miss Coco Chevelle
by Nicole Thompson
(Lebanon, IN, USA)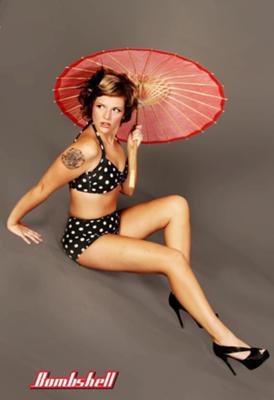 Ready for a day at the beach!
My Pin Up Dream

I was born Nicole Miranda Thompson on January 20, 1988 in Lebanon, Indiana. My stage name as Miss Coco Chevelle comes from my family's nickname for me "Coco" and Chevelles are my favorite vintage car.

I have always been my dad's girl, so growing up I spent a lot of time with him in his shop. It was there that my dad shared with me a lot of things he enjoyed, which are things I still am passionate about today. I credit my dad for my love of vintage cars, Bettie Page, classic rock, the paintings of George Petty, and playing the drums.

I became a Christian when I was 17, and pray daily that all I do is letting Jesus lead so I can follow. I went to Anderson University from 2006-2010 and studied history and political science. It was while I was in college that I discovered my love of tattoos and piercings. I poured over the work of Sailor Jerry, a pioneer in tattooing who many artists still look at today.

Thrift stores became another interest of mine. I could spend hours hunting for items inspired by 1940s and 50s fashion. From there I discovered the Rockabilly scene. Flipping through tattoo magazines, I saw that there were these beautiful models with real curves and a classy sex appeal, fashioned from another time, but with tattoos and piercings that were clearly modern. I wanted to do that someday!

It was a dream I kept in my head. I work as a librarian and substitute teacher so I wasn't sure if pin up was something I could do. One day in early 2011, a good friend sat down next to me, opened a tattoo magazine, and asked, "Why aren't you doing this? You captivate me everyday, you have that style and you're beautiful. Go for it." I had never told him or anyone of my little dream, so to have someone close to me just throw it out there was the push I needed.

I came across Bombshell Photography, the up and coming pin up art photography studio in Indianapolis. We got in touch and booked a session together. I shot with Amanda Renzulli, who was an absolute joy to work with. With the hair styling of Chrissy Davis, make up by Jade Johnson, and direction of Darythe Taylor, I knew no matter where the world of pin up took me, Bombshell would always hold a place in my heart. These women are running a great business and are passionate about pin ups! Amanda Renzulli encouraged me after just a few frames that modeling was something I should really pursue.

I entered one of my Bombshell shots in a contest on Facebook with Unique Vintage, a vintage clothing company based in California who hold a "Pin Up of the Month" contest on Facebook. It was less than a week till Unique Vintage would choose their next pin up, but I had overwhelming support from family, friends, and fans. Still, I was so surprised and honored to be announced as "Miss August!" Wow!

Bombshell asked me to be a spokes model for their company at Oranje, an annual music and arts festival in Indianapolis in September. That same day I shot with Amanda Renzulli again and had just as much fun as my first shoot!

I hope to be published by early 2012. I'm bubbly and outgoing. I love playing the drums and all types of rock music. I hope to be a role model to women by showing that beauty is what you are inside when you show love, grace, compassion, and confidence. You can be curvy, pierced, tattooed...just own who you are and love it! To me, pin up is more than just a look, it's an attitude!