Miss Bubblegum Glamour

(Blue Haven, NSW, Australia)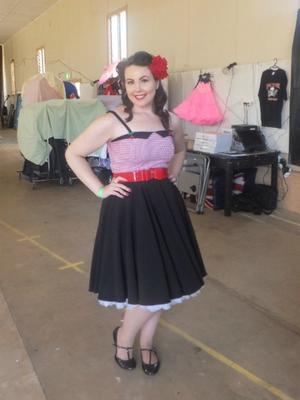 Working as Bexterity's Promo Model at Autumnfest 2013!
Hey guys and dolls!

I'm Miss Bubblegum Glamour and I'm a 21 year old pinup belle with a love for all things retro, pink and girly!

I spend my time watching Moulin Rouge on repeat, spending more than I really should on vintage repro clothing and touching up my red lipstick (not in the public eye of course! I am a lady, after all).

I fell in love with pinup 3 years ago when I first found out about it through Pinup Girl Clothing. I had always admired ladies who dressed in that style but I never knew what it was! I've slowly been adjusting by changing my wardrobe, hair, makeup, the way I hold myself - you name it! I believe this is how I was meant to be and I couldn't live any other way. I love feeling glamourous, feminine and classy. I plan on doing as many pinup photoshoots as

I can. Being a creative type, I have a lot of concepts in mind that I'd like to work on. I'm also a qualified makeup artist, specialising in pinup makeup and I dream of owning my own pinup boutique with attached salon one day!
Join in and write your own page! It's easy to do. How? Simply click here to return to Upload YOUR Best Pin Up Photo.