Loise Lane
by Loise Lane
(Riverside, CA USA)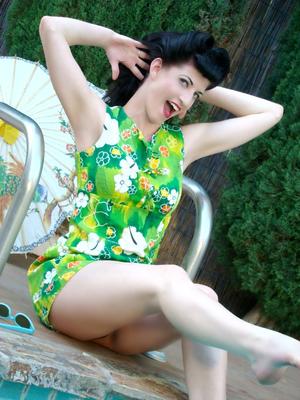 Hello there! My name is Loise Lane and I am a modern day pin-up!

I grew up in a very small town with friends that I have known from pre-school to our senior year of high school.I was never very girly growing up,I was to busy playing softball and volleyball to worry about my makeup and hair.

Then one day I watched Grease and fell in love with the style. I love how Sandy and Frenchie were totally girly but then at the end Sandy came out looking like a sexy bombshell! I loved that both styles were still sexy and classy and of course girly.

<3
I started modeling because I did not want to have that "I wish I would have" or "What if I just tried" when it was too late, so here I am today. I find myself trying to get involved in everything that I possibly can, from becoming a spokes model for a group, calendars, publishing my pin-up art, etc. becuase I want to experience everything that I possibly can, while I can. I do not know what tomorrow will hold, or this evening for that matter, but I do know I am giving my all to achieve this dream and that I am happy and content with that.
Join in and write your own page! It's easy to do. How? Simply click here to return to Upload YOUR Best Pin Up Photo.