Lily St John
by Lily St John
(Evansville, IN, USA)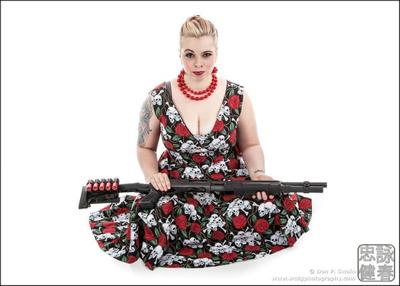 Lily loves gold, glitter and guns!
Many years ago, I traveled around with my tattoo artist and did some small modeling for tattoo conventions and shows. As time went on, I went into the 9-5 work force, gained weight, lost weight and came out appreciating the curves I had instead of hating them. I found that old Hollywood glamour resonated within me, and especially the pin up style! It can be so many things all at once, and it really can show women that EVERYONE is beautiful! A few years ago, I took burlesque classes and started to perform at a local level and created my own troupe, called Glitter in the Air Productions. We include anyone with the right attitude and teach them how to do burlesque, pin up, and how to just gain more confidence in their day to day lives. There is a place for everyone in the pin up world!
There is something so empowering about embracing that feminine side. The red lips, the hair, the outfits, the shoes...the list goes on and on! In a day and age where we are supposed to be more open minded, it seems to me, living in this small midwest town in the US that we have forgotten how to accept ourselves for who we are and have a lot of judgements against women who embrace their sexuality, their femininity and the true fun that comes along with being a pin up. I'd like to show everyone that whether you are a mom, a college student, a banker or an exotic dancer that you can still embrace the pin up movement and all it has to offer!