Judy Kelly
by Judy Kelly
(Chicago Illinois )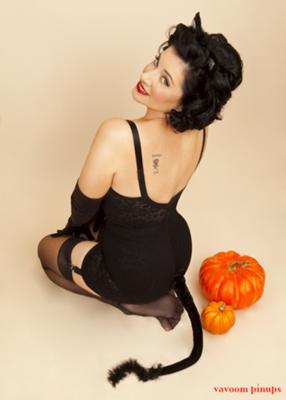 MeOW
My mothers name is also Judy, so growing up I known as little Judy or Judy Kelly (my middle name)

After graduating high school, I got my A.A.S. in Travel & Tourism. I worked in the travel industry for almost 15 years, but eventually went back to school. I have been a Massage Practitioner working independently for the last several years, on a part time basis. I'm 43, and Pinup is just a fun hobby for me !!

I'm a big fan of Retro Pinup Art. And by pinup, I mean the likes of the greats, such as Alberto Vargas & Gil Elvgren. My favorite is Gil Elvgren. (The Norman Rockwell of Pinup art. ) http://elvgrenpinup.com/elvgren_titles.html. So it goes without saying, I am a huge fan or ReD LiPsTicK, and all things girly, glitz or glam. According to my husband, I need to get a handle on my handbag obsession. : )

I believe our fate lies in the way we treat our animals, and I support pit bull advocacy. My favorite breed is a RESCUE !

Oh, and I'm half Czech and half Polish.......There just aren't enough dumplings in the world to satisfy my craving. Everything you see, I owe to dumplings.


Join in and write your own page! It's easy to do. How? Simply click here to return to Upload YOUR Best Pin Up Photo.