Freak Alternative Photographics
Pin Up. Fashion. Portrait & More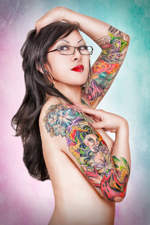 Freak Alternative Photographics - F.ALT (Freak Alternative) Photographics and Illustrative Retouching focuses on the variety of amazing and wicked styles the alternative world has to offer.
Email : f.altfoto@gmail.com
Phone : 7808855110
Website : www.falt.ca

Find F.alt Photographic's on Model Mayhem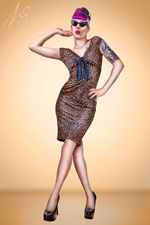 I've never been the best at writing things about myself, so when it comes to "selling myself" I try my best to have my work speak for me. I hope that doesn't sound to egotistical.
My parent's decided to name me Nikita Gushue, so far it's worked out very nicely (aside from being asked if I was named after the show countless times). I tend to find anything crazy or controversial to be fascinating, and am easily bored with proper ways of doing things. I'm not saying I'm indie, goth, punk, or whatever you kids are into these days; I just love a million different things; one being photography, and 735186 things that are more popular in what most consider to be "alternative lifestyles". I guess its clear that I love photography more then any other interest.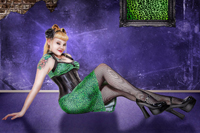 7 Questions from PinUpPassion.com
1. How long have you been doing photography?
Photography came and went as an interest growing up, it wasn't until high school that it really started to become a true part of me. After graduating I decided to go to college for Photographic Technology, and immediately started my own business once I finished the program.
2. What camera do you shoot with?
Currently I shoot with a Canon 40D and poor excuse for a "variety of lenses". It certainly is not the most impressive camera out there, but it does the job.
3. Why are you so interested in Pin Up Photography?
I just find pin-ups to be fascinating. The paintings and illustrations always look so polished and perfect, they show women in what looks like a natural form (obviously it is not) versus the obvious high-end beauty shots that make it clear there is no way women look like that. I also love the fact that my other areas of interest such as Psychobilly, Latex, and Lolita styles have found their spot in pin-up works with a whole new genre of "alternative pin-up".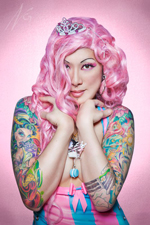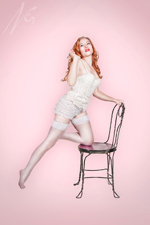 4. What are your favourite pin up poses for photo shoots?
Anything that lengthens the model's legs or shows their shape in the perfect light.
5. What makes a great pin up model?
Having a true understanding and great appreciation of the culture behind it always helps.
6. Who are your pin up girl idols?
The obvious icons like Bettie Page, Betty Grable, Joan Crawford. Then there are the modern day models who show such amazing beauty, individuality and personal twists on pin-up today! They are Mosh, Bernie Dexter, Jami Deadly, Masuimi Max, Heidi Van Horne, Dita Von Teese, and Amelia Nighmare.
7. How do you achieve that interesting and distinctive effect on your photos?
Its a pretty involved process. Its my goal to follow the footsteps of my photographic idols while keeping the similar effect of pin-up paintings included in my images. Meaning I want to have my own signature style that people can look at and say "Yep, thats a F.ALT Pin-up".
It took a few years of trial and error, and I'm still learning... I spent most of my free time in college playing around with different lighting and editing techniques, until I felt confident enough to build upon something. Now its a combination of lighting ratios, editing, make-up and over-all design (with color and composition in mind). The editing process in particular is interesting because it is very similar to digital painting, thus people gave it the name "Illustrative retouching". So really, I take the photo and then give it a painting like treatment, to me I have reached a personal goal.I can't wait to see where it takes me next :).
Email : f.altfoto@gmail.com
Phone : 7808855110
Website : www.falt.ca


Find F.alt Photographic's on Model Mayhem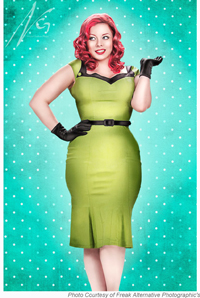 Return from Freak Alternative Photographics to Pin Up Photography
Return from Freak Alternative Photographics to Pin Up Passion Homepage