Dana Von Dolce
by Dana Vigue * Dana Von Dolce Photographer Roy Varga
(Pittsburgh Pa USA)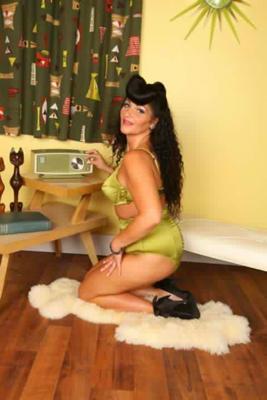 Dana Von Dolce.
Hello Guys & Dolls! My Name Is Dana Von Dolce, I've Always Been A Fan Of Pinups Since I Ws A Lil Girl!!

Its Always Been A Passion Of Mine! With The Last 2 Years, I Finally Got The Courage To Go For What I Always Dreamed Of Doing!

And I Ws Terrified I Must Admit, I'm A Married Mother Of 3 Children, 13yrs, 9 Yrs, and 4yrs Old! I Just Want To Be Just A Tad Of An Inspiration For Women Who Aren't a Size 0, To Go For What U Want To Do, No Matter What Shape Or Size U Are, Curvy Women Can Be Sexy Too!

Even If Ur Not A Tiny Girl! Its All Abt Confidence , That's What Really Makes a Woman Sexy! I'm Not Perfect But, I'm Doing What I Didn't THINK Id Ever Hav The Nerve To Do!! :)

Ps. LUV Ur Page! Xoxoxoxo.
Join in and write your own page! It's easy to do. How? Simply click here to return to Upload YOUR Best Pin Up Photo.