Cyd Cherie
by Sarah
(Ayase, Kanagawa, Japan)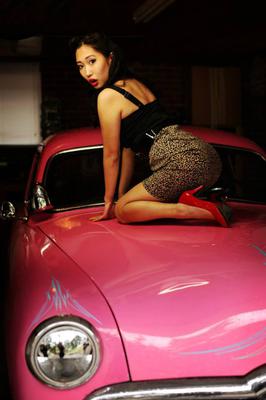 Photo: After Midnight Photography Makeup: Mariko Merriam Hair: Miss Holli Dai
Hello! I am Cyd Cherie or Cyd Cherries, a spin on the name of the famous triple threat Miss Cyd Charisse!

I am a "femme nerd", aka a graphic novel reading, Old Hollywood inspired, kitsch girl pinup!

I first came across pinup when I was about 5 years old when I used to watch old cartoons by Tex Avery (Red Hot Riding Hood and Swing Shift Cinderella). Then I discovered rockabilly at about age 7 when I first watched John Water's Crybaby and fell in love with bad girl pinup, Wanda Woodward's immaculate style. Old Hollywood films were first shown to me at around 8-9 when I'd visit my grandparents and we'd watch film noir and 1950's musicals with Mitzi Gaynor, Gene Kelly, Frank Sinatra, and of course Cyd Charisse!

I first attempted to dress "rockabilly" when I was in my "punk" stage aged 14 but felt uncomfortable with the attention drawn to me so I went back into my tomboy comfort zone in ripped chucks and flannel shirts.

ONLY around four years ago did I finally decide to give the pin up style a go and from there never looked back!


How I came into modeling was really randomly. I've never considered modeling at all and one day I walked into a shop looking for hair clips for my daughter and the designer and owner of the shop (Pandora Moore of Delightfully Deviant) asks me if I wanted to be in her fashion show!

I gladly accepted and I didn't exactly start as a pinup in modeling but as an alt model. After the show, Pandora referred me to a good photographer she worked with, since she knew in daily I dressed in pinup style. The photographer was Dani Griffin of After Midnight Photography.

I made my appointment for my first shoot, it went super awesomely then I made another for an upcoming hot rod shoot (photo shoots are addicting). The next thing you know one photo from the hot rod shoot ends up being the cover for Classy Keen Magazine!

It was a lot of beginner's luck BUT from there a lot of hard work, dedication, having a true love for both the lifestyle and aesthetics!