Betty Lee
by Lydia Kellerman
(Buffalo, NY)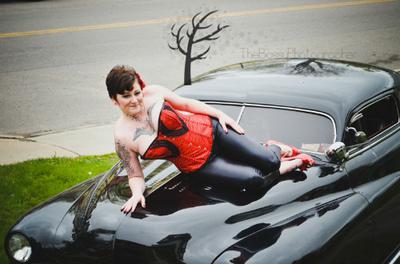 Hello there!! My name is Lydia Kellerman AKA Betty Lee. I'm a single mother holding down a full-time job, working with people with developmental/intellectual disabilities. Been doing that for 6yrs now.

About a year & a half ago I was at a car show and I met Pin Up model Kelvis. She was advertising for a St. Patty's Day themed Pin Up photo shoot. Now, I've always been camera shy due to always taking terrible pictures. So after much deliberation & building the confidence to even email her about doing it I decided, what the hell! I'll do it! I've always been curious about the way life was in the 1940's & 1950's....always wished that I lived during those times. Everything seemed to be much simpler then, loved the styles of clothing, household appliances & furnishings.

I also really loved that everyone would be dressed in their nice dresses & slacks not like now a days where you see more people in sweatpants more than anything.

I like how people took pride in their appearances. Getting back to my first photo shoot, Kelvis recommended this little locally owned retro/vintage inspired clothing store called Cats Like Us to shop at. When I went there I absolutely fell love with their clothing! I was in heaven haha. So, I found a cute dress & a few other things for the photo shoot & was on my way. About a month later was the shoot & I was nervous but think I did very well for my first time. It definitely boosted my self-confidence level & everyone was very welcoming & layed back which was helpful.

I've done about 9 photo shoots since then & really wish I could afford to do more & work with the more well known photographers. I really love doing Pin Up modeling! I've been published in a few newer magazines which is really very exciting for me!

I would love to get published in Retro Lovely Magazine, That would be super cool!! I'm working on it, slowly but surely haha.

I recently created a Facebook fan page www.facebook.com/BettyLeePinUp.
Join in and write your own page! It's easy to do. How? Simply click here to return to Upload YOUR Best Pin Up Photo.