Bettie Veronika
by veronika yahl
(avondale, az, usa)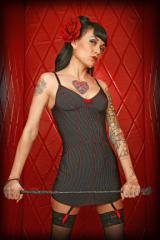 who needs a spanking??
My name is Bettie Veronika and I am a mum of 3 wonderful monters and a wife to my amazing hubby Adam.

I am a surgical tech and pharmacy tech and do modeling on the side.

I first got into pin up the first time i ever saw and knew who "BETTIE PAGE" was and the first time I saw her it was LOVE at first site and ahhhhh lol.

I mean come on she is the most beautiful woman I ever saw ( besides myself) ;) I love how diverse pin up is with every shape, size, and color. With pin up you don't have to be a size 2 to be a pin up model you just have to be yourself and love who you are and that's me, I love who I am as a person and how I look.

I'm 34 and feel 25!! lol

My biggest fans are my kids and especially my hubby, he loves when i dress in pin up and loves to show me to the world and loves loves all the compliments I get everywhere we go (hahaha)...crazy kid.

Pin up is fun, classy, unique, one of a kind, and lets you be who you want to be and to me that is all i need for my everyday fashion and life!!

Love who you are and love others equally!!!

x
Join in and write your own page! It's easy to do. How? Simply click here to return to Upload YOUR Best Pin Up Photo.