How To Shop Vintage

By Kat Creasey - Founder of My Little Rockabilly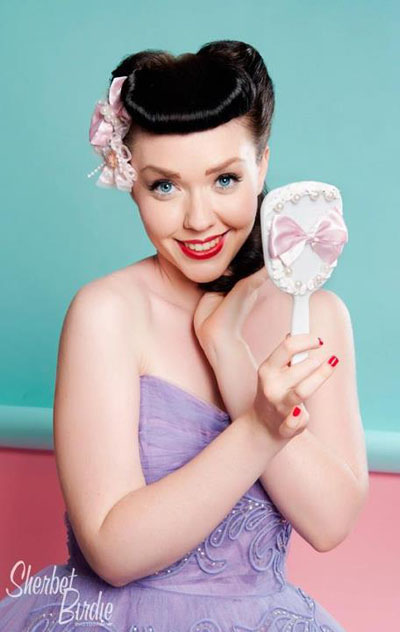 How do you shop vintage? Kat Creasey has it covered...
I LOVE vintage!! There is NO denying this! And I shout it from the roof tops, But I guess it can be pretty tricky for people that are wanting to know where the heck to go to buy decent quality things!?
And lets be honest, we don't want to pay and arm and a leg for one piece of clothing,especially when the up keep on some garments can be expensive (I know all my 50s prom dresses must be hand washed or dry cleaned and some have thousands of tiny beads that have been hand sewn on. And a 50+ year old dress needs time, love and care).
I am personally, starting to dislike vintage reproduction clothing, why? Nothing to do with the quality, because generally it's always amazing! But because of individuality. Everyone is wearing the same clothing. I recently attended an event where dozens of girls wore the same teal polka dot dress, yeah they were cute! But buying vintage ensures you will be the only person with that very outfit.
I have some tips you may or may not know about when searching online for vintage. To shop vintage, search things like.. 'old blouse' 'antique top' 'retro dress' 'cotton day dress' these key words for ebay, etsy, google etc are generally going to find you awesome clothing from people who have no idea of the gold they are selling.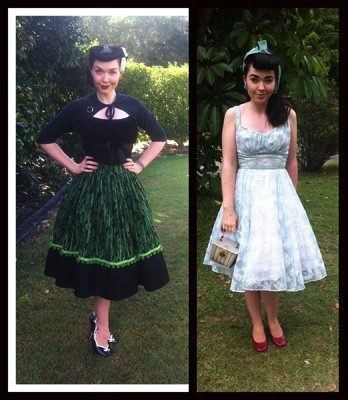 Here's an example. I just bought a soft sheer 1940s blouse that was listed as a 'antique nighty' yes.. these people assumed because it was sheer that its pajamas. Wrong! For $8 from etsy..of course I snapped that baby up!
Once you get into buying more vintage you will understand brands of value, shapes & styles of eras, and honest online sellers.
Eventually the sellers will get to know you, your size and what you like and sometimes offer you garments prior to listing them online for other people to buy.
Deadstock vintage (which means they are unworn vintage garments usually with tags still attached) are by far the most expensive pieces to buy.
I only to buy them to hang them on my mannequin to look at. This may sound strange to some people, but it's a rare piece that will only grow in value (A bit like a collectable doll or toy still in packaging).
Want more tips to shop vintage? Ok...
Something else you can do to save money yet still own a unique piece is find vintage fabric and send it to a dressmaker or designer and get them to make a dress or blouse from the fabric in a vintage style. My favorite designer is "Hot Couture" Joy Taylor the owner of this vintage reproduction company makes short runs of repro clothing and also makes clothing from fabric you send her. Now, where do you get vintage fabric from? It's easy! Op shops are perfect, eBay, and gumtree.
I find lots of floral old curtains that can be cut up and turned into beautiful frocks!
For Facebook users who shop vintage - There is a online group that you can join to see vintage clothing, jewelry and hats from sellers all over the world.
Just search "ooh la la! vintage swap and sell shop".
There is so much more to talk about. And I hope to have discussions with you all about this further.
Love and fabulous vintage
Kat Creasey
If you enjoyed the article 'How To Shop Vintage' from Kat Creasey', make sure you follow Kat on Facebook here
Follow Kat on her Blog: http://www.mylittlerockabilly.tumblr.com/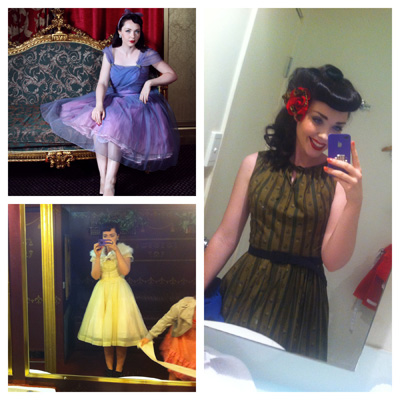 Return from Shop Vintage to Pin Up Passion Homepage