Pin Up of the Month of July 2011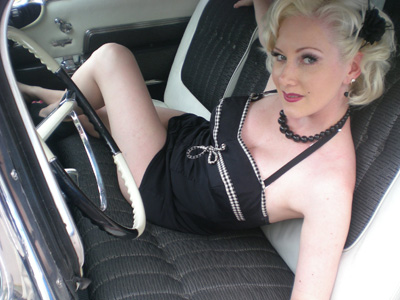 Pin Up Of The Month Of July Goes To...Miss Jennie Gorbunow!
Jennie's Vitals:
Weight: 138 (Miss Jennie didn't specify but I don't think she means Kg's!)
Cup: C
Dress size: American size 6
Shoe: 7.5
Hair: Platinum
Hair length: Short, above shoulder
Eyes: Blue
Ethnicity: Caucasian/white
Style: 40/50's
Favorite activities include:
Spending time with friends and family. We don't have children so my husband of 6 yrs and I have 2 dogs and a cat we spend a lot of time with.
I also enjoy antiquing and searching for that next awesome retro find, being late 40's and all the 50's are my favorite yrs anything would look great in my house. I'm always looking to expand my vintage wardrobe.
I also do Marilyn Monroe impersonations at major car shows around the Twin Cities Minnesota and for private events.
I've been working on building my Marilyn business for about 6 yrs now, after my husband noticed how many remarks from people we would hear when we were dressed up at a wedding or other events.
I've been bleaching my hair for almost 10 yrs and cutting it shorter and shorter until it reached the perfect Marilyn length. I have been working as a full time hairdresser for 12 yrs as my main job.
I have always enjoyed beautiful pin up pictures, somehow it seems naughty but simple and sweet at the same time, that women aren't just a wife, mother, or housekeeper, that we are still the fairer sex, I think we spend a lot of time in our world today trying to be equal with men, just to be respected, but wouldn't it be nice to just be cherished, for being a women?