Miss Elle Ray
An Amazing Illustrated Pin Up Model

Photo courtesy of Dale Haberfield
Miss Elle Ray is Australia's BEST illustrated pin up model. Hands down. She's amazing!
She stepped onto the scene just over a year ago and she's taking the industry by storm.
Everyone is throwing themselves at her!
I'm super excited to know her personally :)
Find out more about this beauty queen who was voted:
Miss Illustrated (ie. tattooed) Pinup Australia 2011...
Miss Ink Australia-Peoples Choice
The Face of Wintersun 2011/2012
You'll be seeing a whole lot more of her in the media all over the world...very, VERY soon.
(Check out Elle on Facebook or read more about her success in Miss Pin Up Australia here)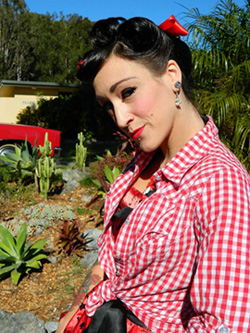 Miss Elle Ray's Vital's
Pinup Name: Miss Elle Ray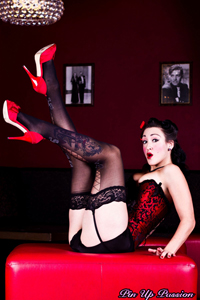 Height: 5"9inch (she's so tall!)
Weight: 65kg (she's so little for her height!)
Bust: 34inch
Waist: 24inch
Hips: 34inc
Cup: D
Dress: 8
Shoe: 9 (Aust)
Hair color: Black
Eye color: Hazel
Skin color: olive/white
Genres: Pinup Modelling...that's it. Simple.
"Make every moment count, as life is too short to be unhappy. Be true to yourself and never ever give up on your dreams, for its our dreams that keep us going in life and what is a life without dreams!!"

Photo courtesy of Gregory Bellis
Fun Facts and story:
I am a 27yr old, very experienced 1950's illustrated pin up model.
I enjoy my work and am always looking to try new things.... i am very creative and feel that photography is an art and we as models are their canvas.
I love my tattoos and feel there is no better way to express myself and tell my stories than with ink on my skin.
I am very bubbly and love to laugh....and feel that life is something to enjoy and make the most of!!!
Im a bit of a dare devil...cheeky but innocent... you may find me playing with fire (as i do fire breathing...hehe) or baking a cake as i do so often.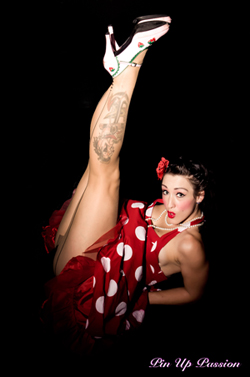 Whatever i am involved in, I can assure you that i give my best in everything i do.
I entered into the pinup lifestyle hoping to turn my life around and to be able to show the real me to the world.
I decided to get my back tattooed in dedication to my children after the death of my little girl Ella, and wanted it to be a way to express to the world my story of struggle and triumph, struggle being the dark times we endured through this loss and triumph being that no matter how bad things get there is always a positive we can pull out of it.

I have always loved the 40's and 50's era, growing up listening to music from Elvis, Billy Holiday, Ella Fitzgerald and Bill Haley...etc. The pinup lifestyle, especially the Rockabilly scene seems to incorporate all of the above into one and i love it!!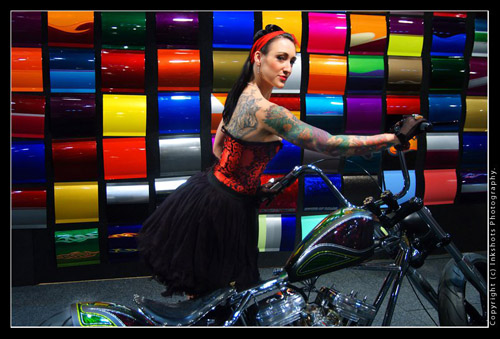 Photo courtesy of Inkshots Photography
The best thing is my children love it just as much and it has brought us all closer as a family.
As this is my sole way of supporting my family I only do paid work, but am willing to negotiate depending on the type of shoot etc... I am great fun to work with and i don't think i have met anyone yet that i haven't been able to get along with.
I encourage others to follow their dreams as i feel it is so important and wish everyone the best of luck in doing so.
I hope this helps in getting to know a little bit more about me.
Love to all...
Miss Elle Ray xx
Sponsors:
Andy Gould Colours of the Bay Tattoo, Vintage Fashion Lounge, Something Else clothing, Beserk Clothing, DCMA Clothing, Rubi Rocket, Toxic Cupcake Accessories, Retrocherry Accessories
People I have worked with:
Pin Up Passion (we feel so lucky at Pin Up Passion :)), Mike Schulz - Icapture Photography, Greg Bellis - Photographer, Pixie Roberts-Boogie Bop Dames -photographer, Stephen Wark -photographer, Michael Marchment- Photographer, Jolin Shead - Hair and Make up, Cruizin Magazine, Focus Magazine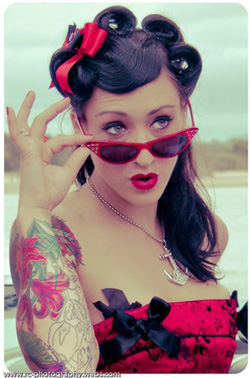 Photo courtesy of RC Photography
Return from Miss Elle Ray to Pin Up Girls
Return from Miss Elle Ray to Pin Up Passion Homepage