Lipstick Stay: How To Make Your Lipstick Stick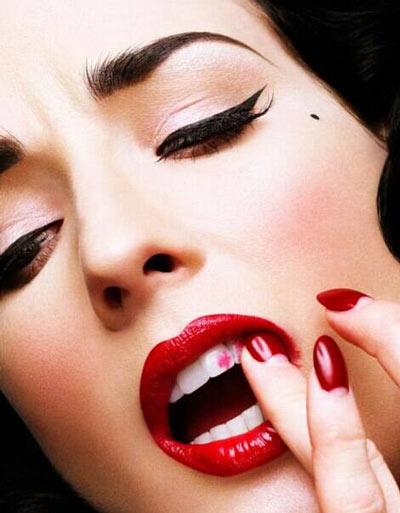 HOW TO: MAKE YOUR LIPSTICK STAY
"Red lipstick is to beauty what the LBD is to fashion. The difference is that when you walk into a room wearing a red lip, people notice you" (FRANÇOIS NARS)… hah! Isn't that just truer than true!
There's no denying what the stamped-on power lips can do, especially for us Pin Up muses. It's our final dot, our cherry-on-top. But that perfect rouged pout though achievable, is very very temporary. Surprise! --Like we don't already know that. So now what to do? There are actually various ways to make our favorite lippy stick even through a serious smoocharoo session and maybe even after a couple of cups of cappuccino. It's a matter of testing which one best works for us in particular or in combination. Here are a few steps to consider:

1. Exfoliate

Lipstick holds up best on a smooth surface; in other words, it cannot and will not adhere well to lips that are dry, chapped, or cracked. The solution is therefore, exfoliation. Use our favorite - the Baiden Mitten (www.PinUpSkin.com) to achieve flawless skin not only on your lips, but as a bonus all over your body and face.
2. Hydrate
Moisturize fresh skin after exfoliating with a balm or a gloss. But do it at least 10 minutes before applying the color to let it soak in.
3. Blot
Remove any oils from the lips by blotting with a tissue before applying the color. Blot again after applying the lipstick.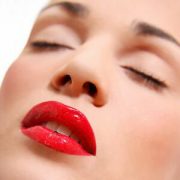 4. Layer
A lip primer (alternatives: foundation and concealer) creates a smoother surface for lipstick. Apply a thin layer of primer to the lips and blot to remove excess oil. Then apply lip liner. Lip liners are very waxy in texture so they help the lipstick to cling better. It also adds a layer of pigment and helps the color last. Fill in the entire lips with a lip liner rather then just the outside. And use the sides instead of the point to achieve a softer look as opposed to a harsh edge.
5. Rinse and Repeat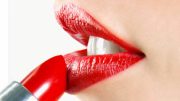 After applying the color, cover your entire lip with powder and repeat the process of applying lipliner and lipstick all over again. This assists with creating a tough layer of lipstick that is hard to budge.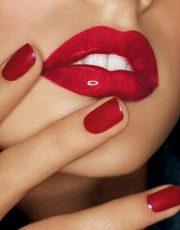 Finally...after all that is done and dusted, put your index finger in your mouth and gently press your lips together around it to remove excess color. This will prevent any lipstick product from landing on your pearly whites!
Other Options:
Re-Line. This will ensure the color is applied evenly and the waxy formula will lock all the color into place. Go for a bright or dark shade of lipstick; they tend to last longer because they have more pigment.
There. I'm sure some of you have tried a combination of these steps. Which is it? Feel free to throw me back some stories of the ones that worked for you, will ya?!
So I'll say, "to be continued…"
---

If you enjoyed the article 'Lipstick Stay'…
Connect with me on Facebook!

Click here to connect with me on Facebook
---
Return from Lipstick Stay to Pin Up Passion Homepage