Rebecca Ann
Sexy Pin Up, Amazing Body, Perfect Smile...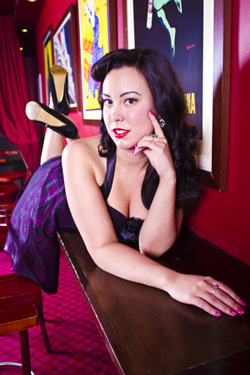 Image courtesy of Mike Schulz
Rebecca Ann's vitals:
Name: Rebecca Ann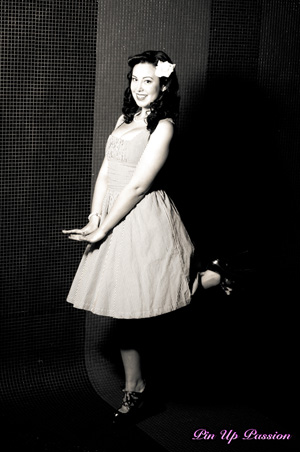 Height: 5' 4"
Weight: 60kg
Bust: 33
Waist: 26
Hips: 34
Cup: 10D
Dress: 8
Shoe: 7
Hair color: Dark Brown
Hair length: Long
Eye color: Brown
Ethnicity: Spanish, English
Skin color: olive
Genres: Pin up, Alternative


"Not your average girl next door"
Favorite activities include:
Vintage shopping, concerts, burlesque shows, spending time with loved ones.
What you love:
My friends and family, vintage fashion, tattoos, heavy metal, horror movies
Your Favourite Foods Include:
Chocolate, crumpets for breakfast!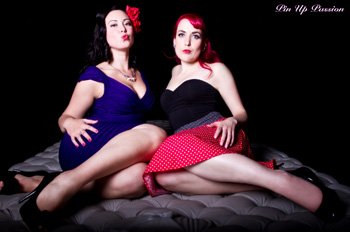 Image courtesy of Mike Schulz
Where did you come from? What is your story?
I gave modelling a shot in 2008 and struggled to find my niche genre. I was then introduced to pin up by searching online and fell in love instantly, my first love was Bettie Page. Her style and body inspired me and when I did my first pin up photo shoot I knew instantly this was for me. It came quite naturally and I felt so comfortable. I went on to participating in pageants, working with designers and haven't looked back since. I love every moment of it!
How many tattoos do you have? do they mean anything?
I have four tattoos. 2 Dragons on my back. I was born in the year of the dragon, they represent power, protection, strength. Small Cross on my wrist represents my religious beliefs.
Thigh piece: Red rose represents love, purple rose represents love at first sight and blue rose represent impossibility. I also have a locket and key to go with the love theme. I never thought i would find true love, always thought it was impossible but then i did when i least expected it and i followed my heart.

Image courtesy of Mike Schulz
What fascinates you about pin ups?
Pin ups celebrate the female body. Pin ups are cute, cheeky, sexy, funny, curvey and glamouress.
When did you first start dressing like a pin up?
Oh i would say around 2009.
Who is your fav pin up?
My favourite would probably be Masuimi Max.
Who is the inspiration behind your look?
Bettie Page, Marilyn Monroe, Betty Grable, Masuimi Max, Micheline Pitt
Where did you learn to do your hair and make up?
Youtube clips are a big help! I researched a lot of pin up models and noted down what i liked and then practiced on myself and friends.
One Pin Up Tip:
Life is too short for bad hair days!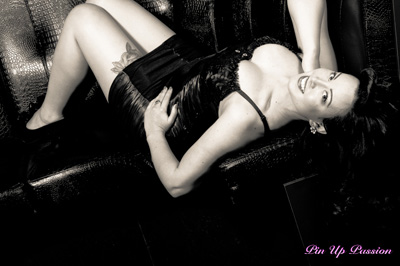 Image courtesy of Gregory Bellis
Return from Rebecca Ann to Pin Up Girls

Return from Rebecca Ann to Pin Up Passion Homepage