Pretty Things Peepshow
Burlesque and Vaudeville acts
Do you want some unique entertainment? Then it's time that you watch the Pretty Things Peepshow!
The Pretty Things Peepshow is a combination of sexy circus sideshow stunts with the addition of burlesque and vaudeville acts. They are introducing a new genre called Broadville. What is Broadville? A mixture of hot broads performing new and exciting brand of vaudeville. If you have a love for seductive pin up girls, then you are on the right show! The twists and turn of events this show will give will give you the best entertainment ever.
The Pretty Things Peepshow can offer you all kinds of entertainment all at once and what's best about it is that they offer you a deeper meaning of Art. Something more with depth and with more meaning. The show will keep you interested all throughout the whole show.
Find out more about them and be updated:
Pretty Things Peepshow Website
Pretty Things Peepshow Facebook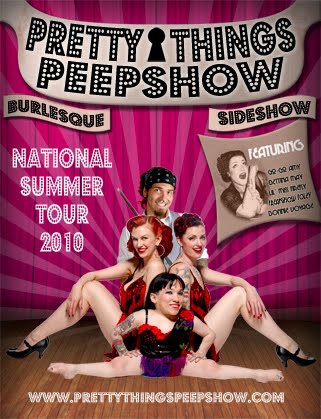 They are based in New York City but due to their growing popularity, they started touring since January 2009. Learn more about the performers of this wonderful show, who should you look out for?
Go-Go Amy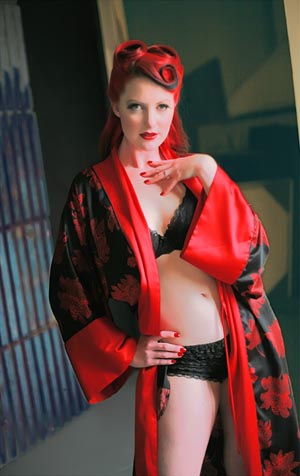 If not for this beautiful woman, there wouldn't be Pretty Things Peepshow as she is the founder and creator of this show. A vintage vixen, a burlesque bombshell and a sideshow seductress. She manages everything! Before she organized this show, she was a solo performer and she has appeared in a lot of shows already.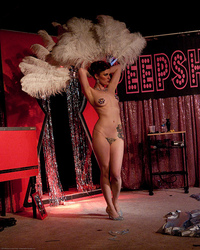 Aside from this, she also did modeling and appeared in numerous magazines and websites. She was also a modeling instructor and photographer for How to be a Pin Up Girl classes.
Bettina May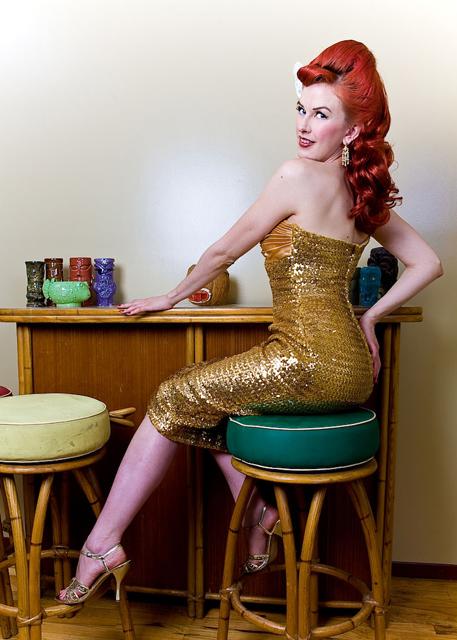 She is a pin up model, a burlesque dance and a photographer. She is one of the first Western Canadian models for SuicideGirls.com. She also appeared in TV shows and has toured USA and Europe, has appeared in newspapers and magazines.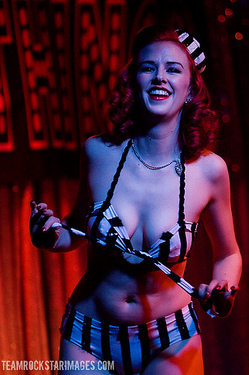 Today, she designs her own line of vintage-inspired vegan accessories that has been worn by famous personalities like Bernie Decter and Dita Von Teese. She teaches classes on vintage pin-up styling and posing, and she photographs them as well.
Who are the other characters of this wonderful show?
Miss Heather Holliday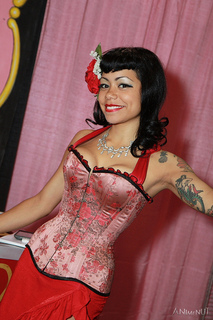 Who is she? She is the sideshow sweetheart and she can definitely swallow a sword. Now, that's something you don't get to see everyday. Miss Heather is known to perform the toughest and most dangerous stunts. A beautiful dame that can swallow a solid 2 feet steel with in such a graceful manner. And that's not all! She can also eat or breathe fire, eat glass, lie on a bed of nails, whip crack and more. Yes, she really does have a strong stomach.
Donny Vomit
He is also known as The Dapper Dan of Danger. Donny Vomit is the host and also a sideshow performer. Does he look familiar to you? That's because he worked at Ripley's Believe it or Not in Time Square. He has mastered a lot of acts that inludes animal traps, chainsaw juggling, fire eating and more.
Little Miss Firefly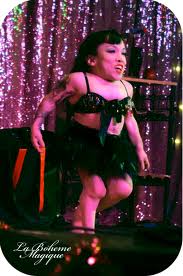 Last but not the least, another star of the show who is also known as "The Midget of Mischief". She has starred in a lot of hit shows and has toured with famous personalities like Ozzy Osbourne and Marilyn Manson. Does she look familiar? Well, that's also because she has starred in a couple of music videos!
Beautiful and interesting characters. The team will give you a different taste of entertainment. Be prepared to delve into their mysterious world and thrive on the beauty, mystery and deeper acts that you don't see everyday. So, what are you waiting for? They might be touring around your area this month!
Find out more about them and be updated:
Pretty Things Peepshow Website
Pretty Things Peepshow Facebook
Return from Pretty Things Peepshow to Pin Up Passion Homepage