Pin Up Hair Accessories - From Florals to Bandanas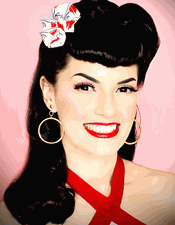 What are the best pin up hair accessories that you can put on your hair?
These accessories will just make you feel so grateful that you're a woman!
The most common accessory for the pin up girl is the flower.
This is a very simple, yet effective accessory as it's very iconic of the 1950s era.
Sure you can use a real flower, however there are plenty of hair flower clips on the market.
The best thing about the pin up look, is that it's belatedly over the top...so for you, that means that the flower can be any size and any color.
If you feel like going wild and having a huge head piece, this absolutely works.
It's very cleverly done when you see pin up dolls wearing the hair flower which is a similar color to their shoes or their handbag. It ties the whole outfit together beautifully.
Common hair flower colors for pin ups are red for dark haired ladies, black for light haired ladies. Obviously this is just a suggestion.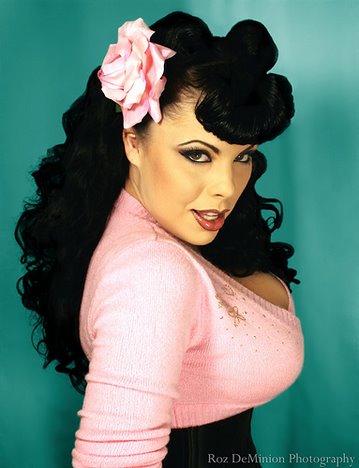 You will also find ribbons to be a great pin up hair addition. This will create a more feminine touch to your vintage-inspired or retro outfit. Pose in a naughty way with that ribbon still making you look sweet, just like how pin up girls should be!
If you're going alllll out, then you might even go for a big burlesque feather hair clip or a top hat, ala Dita Von Teese style. This isn't as much of a popular look, but it's definitively captivating.
Another very popular piece for pin up hair accessories are thelovely fascinators. These are typical of the pin up dolls as they scream class, glamor, sophistication. These come in a huge range - some have sturdy nets over part of the face, some have feathers in them. Google is your best friend here to find the ultimate fascinator for you.
Facinators are very popular for the night time look or for a glamorous event. You'll also see a lot of these on pin up dolls during winter. But no...they won't keep you warm.
Then we get into the fun and quirky pin up hair accessories. One of the most popular accessories for the pin up doll in this category is actually a bone! See the image below.
If you're a pin up with a bit of attitude, there are also amazing glitter spiders that you can add to finish your look, Micheline Pitt wears this look quite a bit.
Then you can also have cute bows and even skull hands and skull heads.
Oh and let's not forget the easiest form of pin up hair accessory, the bandanas for women who are more into the rockabilly style!
Ladies and gents...this is precisely why the pin up look is ultimate. There are no rules to what you can or can't do for the look.
Let your personality shine through however you wish!
Enjoy the shop-a-thon! Good luck!
Return from Pin Up Hair Accessories to Pin Up Passion Homepage