Dayna-Baby Lou
The Modern Show-Stopping Bombshell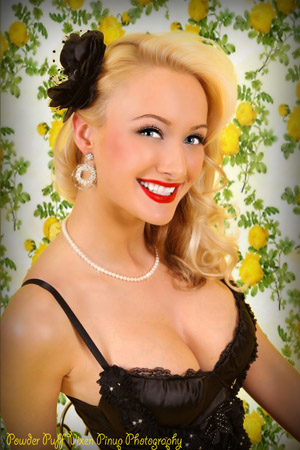 Photo courtesy of Powder Puff Vixen Pinup Photography
What a stunner Dayna-Baby Lou is!
Although in some aspects she possesses a similar look to Marilyn Monroe, the modern twist she puts on this look, she certainly owns it and makes it her own.
The inner bombshell of Dayna-Baby's has come screaming out and it's hard to take your eyes of her, don't you think?
Super confident, extremely sexy...this modern bombshell sure knows how to get noticed.
You can follow Dayna-Baby Lou on Facebook here or you can visit the Dayna-Baby Lou website here: www.daynababylou.com
Pinup Name: Dayna Baby Lou
Height: 5'8"
Weight: 130lbs
Bust: 34"
Waist: 26"
Hips: 36"
Cup: DD
Dress: 6
Shoe: 8
Hair color: Blonde
Eye color: Greyish Blue
Skin color: Fair (and sometimes Tanned)
Genres: Classic Hollywood Glamour, Pin-up, Boudoir , Retro Swimsuit, Rockabilly, Hotrods &Pin-up Art.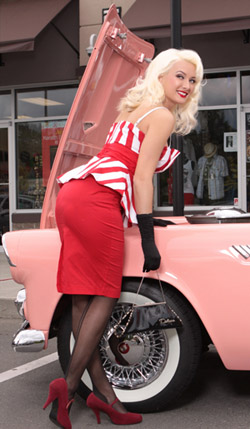 Photo courtesy of Powder Puff Vixen Pinup Photography
"I love people who make me laugh. I honestly think it's the thing I like most, to laugh. It cures a multitude of ills. It's probably the most important thing in a person."

— Audrey Hepburn

Photo courtesy of Powder Puff Vixen Pinup Photography
Fun Facts and story (how pin up life all started, why, what fascinates you about it):
Well my family has always remained very retro.
My father rebuilt his own 40's Hotrod and my Uncle completely morphed his home into a 40's/50's diner haha! So I was always surrounded by that retro era. I used to watch old movies with my grandma when I was young; Gentleman Prefer Blondes, Breakfast at Tiffany's and the Seven Year Itch...I was hooked!
Then we would go and try and sew the fancy outfits the ladies wore in the films. I envied the Old Hollywood Glamour style and have always been inspired to take on a similar look. So..eventually I discovered pin-up art and modeling, then started studying the poses.
I had some help from a few of my favorite photographers and I've just been having a blast ever since!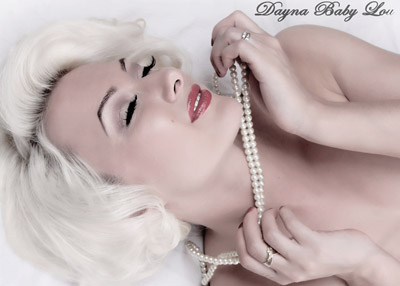 Photo courtesy of Powder Puff Vixen Pinup Photography
Who is your favourite pin up:
Personally my all time favorites are Jayne Mansfield and Marilyn Monroe, however, I really appreciate the work by today's modern pin-ups such as; Doris Mayday, Claire Sinclair and Christina Aguilera.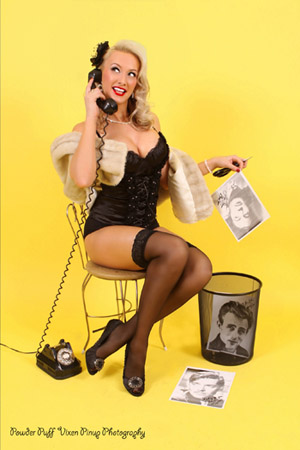 Photo courtesy of Powder Puff Vixen Pinup Photography
What is the inspiration behind your look:
Definitely the 50's Blonde Bombshell look.
What do you do to get such a perfect pin up body:
I enjoy working out and focusing a lot on my fitness. Everything from being in the gym, walking my dog or enjoying lots of outdoor activities. I try to eat healthy on a regular basis and drink TONS of water daily. When I do indulge on my "not so good for you comfort food" I just try to remain as active as I can, and I find that balances me out quite well ;)
Where are you hoping to take your pin up modeling:
As far as the wind will take me! For me it's not about being famous or being the most popular with pin-up. I just simply enjoy doing it. It's a great passion of mine and it brings me joy :)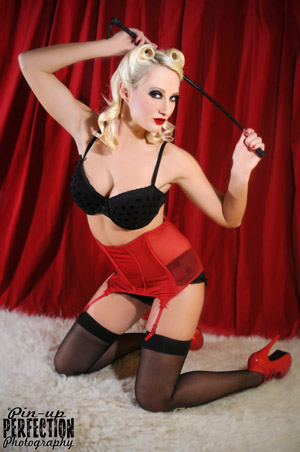 Photo courtesy of Pin-Up Perfection Photography
One best pin up tip you have:
Be the best person you can be and always take care of yourself. Never judge a book by its cover or take things for granted. If you enjoy doing something...go for it! Treat others with respect and always remain classy ;) And...most important!! always always...just laugh. Classic Pin-ups are always so happy, cute and positive.. so be sure to smile and have fun with it!
xoxo Dayna Baby Lou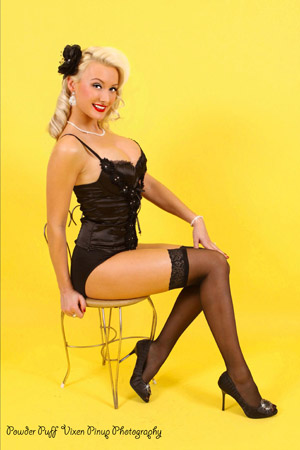 Photo courtesy of Powder Puff Vixen Pinup Photography
Don't forget to follow Dayna-Baby Lou on Facebook here or you can visit the Dayna-Baby Lou website here: www.daynababylou.com