Bunni Lambada
Miss Perfect. What else is there to say?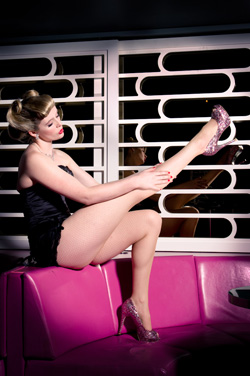 Photo courtesy of Gregory Bellis
She's super sweet and perfect to a T. I guess that's why she was chosen as Miss Perfect Pin Up Australia in 2011 AND chosen as Pin Up Australia 2011. Impressive!
(Check out Bunni on Facebook or read more about her success in Miss Pin Up Australia here)
Bunni Lambada's vitals: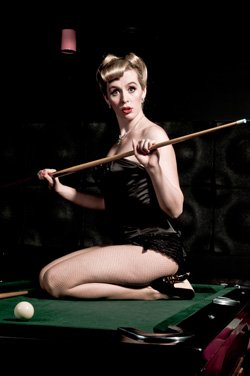 Height: 173 cm
Weight: scales are so unglamorous!!!
Bust: 90
Waist: 68
Hips: 90
Cup: 10D
Dress: 8-10
Shoe: 8
Hair color: Blonde
Hair length: Long
Eye color: Blue
Skin color: Pale
Genres: Pin Up, Burlesque, Athetic, Fashion
"Don't just think about who you are, think about who you want to be."

Photo courtesy of Gregory Bellis
Favorite activities include:
Pole Dancing, Dancing, Reading and Studying (yes, really), attending rallies for good causes, making people laugh, not running.

Photo courtesy of Gregory Bellis
What you love:
Food, friends and fashion!!! Oh and the beach, under a big hat of course!!!
Your Favourite Foods Include:
Olives, Wine and Cheese.
Where did you come from? What is your story?
In 2010 I entered the competition Miss Pin Up Australia, seeking to explore my love of glamour, fashion and of course, the 40s and 50s. In the competition I won the title Miss Perfect Pin Up NSW, as well as the titles Miss Perfect Pin Up Australia and the overall title in the competition, Miss Pin Up Australia 2011.
Despite having no tattoos and a terrible habit of chipping my red nail polish, I have since worked with many leading pin up and rockabilly fashion houses and photographers and artists.

In the future I wish to continue my love of fashion and glamour without compromising my passion for human rights, legal equality and the safety of women during war. I also want to have fun, in ample measure.
One great pin up tip:
Don't overload on powder - even though its a very era - appropriate makeup item, it clings to your wrinkles and can make you look very old. Instead stick to dewy foundations or mineral makeup - it is much less aging and better for your skin. And always wear pink blush rather than overdoing the bronzer - my favourite colour is Orgasm by Nars.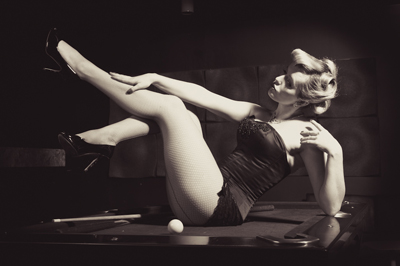 Photo courtesy of Gregory Bellis
How do you get your skin so perfect?
I am blessed with good genetics in the skin department, but I don't rest on my laurels. I love to sit in the sun (and I believe it is good for your health and state of mind), but if i'm going to be outside for more than 30 minutes I make sure I have a good SPF sunscreen on hand. Nothing is attractive about sunburn!
Also, I use rosewater and glycerine (which I get made up for me at the chemist) to tone my skin. It smells beautiful and helps me sleep!
How did you learn to pose like a pin up?
Everyone has to start somewhere, so start practicing in the mirror, and run fun shoots with your friends! Its trial and error a lot of the time! When you are doing a photo shoot, make sure that you keep moving around- even if a pose feels good sometimes it won't look quite perfect on camera - so keep re-positioning your head, face and body. Also, study the greats; if you are flexible, work with that and use it to your advantage; if you are voluptuous study photos of voluptuous pin ups and work out which angles accentuate your best features!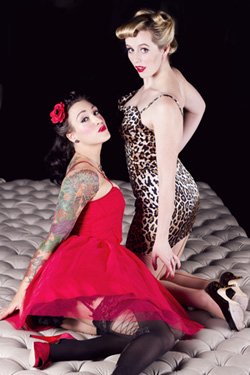 Photo courtesy of Mike Schulz
Who inspires your pin up look?
I am always inspired by modern day bombshells such as Dita Von Teese and Christina Hendricks and their beautiful and appropriate fashion choices. I am not into reproduction clothes (skull motifs, tattoo motifs etc), but love classical shapes and beautiful hair.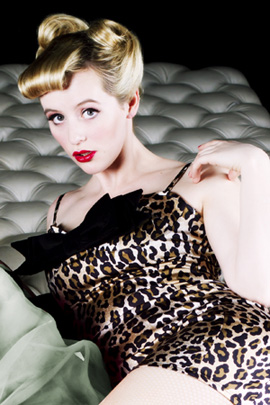 Photo courtesy of Mike Schulz
When did you start living like a pin up?
I have always been obsessed with fashion and glamour, and started on that tack during High School when i cut off all my hair to look like Audrey Hepburn!
How did you learn to do your hair?
I attended a mixture of workshops and also watch Iris obsessively on youtube (if you haven't watched her tutorials you are missing out - she is amazing!!!!). Also through getting my hair done regularly I would study what the hairdressers or stylists were doing and try to replicate that at home.
Who is your favourite pin up?
Miss Gigi Vine - a Sydney based Pin Up model with panache coming out of her ears. She is incredibly beautiful inside and out and being a professional dancer, moves exceptionally well in photos. She is also hands down one of the most professional and inspiring girls around.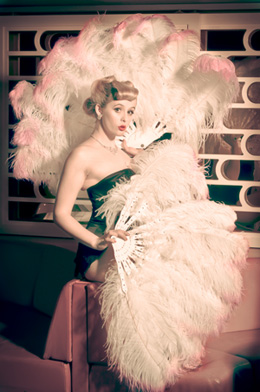 Photo courtesy of Gregory Bellis