Bullet Bra
Lingerie for Pin Up girls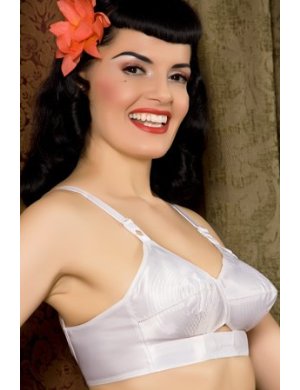 Is bullet bra an essential part of Pin Up lingerie?
Of course!
Well...if you're really aiming to do everything as they did in the 1950s that is.
There are many memorable moments from the vintage era of famous Hollywood icons sporting the ever famous bra.
One which we cannot go past is Miss Sophia Loren.
This is one of the most iconic photos of this woman, and as you can see, this bra makes the outfit.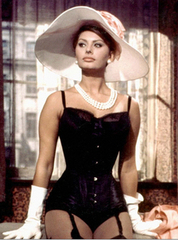 History of the bra
Just like any other lingerie, this bra has its origins and it reached the peak of its fame in the 1950s. It was made famous by girls or icons like Marilyn Monroe and other pin up style females during this time.
This is a bra which is full covering and provides the necessary support, whilst allowing the breasts to breathe (this is achieved with the air pocket at the tip of the bras).
However, during its time, they are considered to be shape enhancing and was the "push up" bra of its time. Back in the 1950s, it was almost made from nylon or satin and it has distinct circular or cone shaped cups.
Why are they called "bullet bras"?
No, they don't have real bullets in it because that may be a bit scary and awkward :)
Its relevance to the term bullet is because these bras have pointy cups and usually utilize concentric stitching to help maintain their shape without the help of under-wires. These are made with vintage patterns.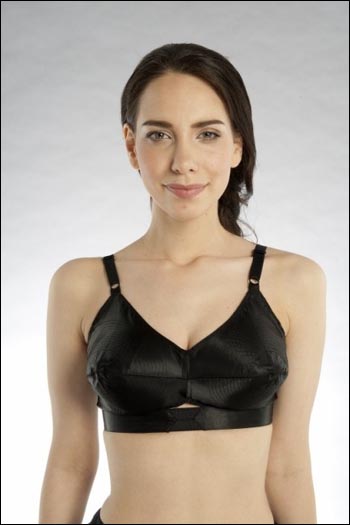 What made this bra more interesting...
It doesn't come with padding or under-wires like the push up bras we have today and unlike what Miss Lady Gaga wears.
(I'm sure she has a different definition for this bra and in a more literal form!)
Kidding aside, the circular stitching and proper size made these bras fit perfectly on most women without the need for extra padding or under-wire that can really be annoying.
However, there are some women who stuff padding into their bras just to fill out the rest of the cup and to make them look extra pointy.
Each to their own! It certainly has an interesting appeal.
Everything has its downfall...
The downfall of this bras came during the 1960's when padded and under-wire bras were introduced. These bras quickly got out of fashion and never really returned to their full capacity...
Quite disappointing we feel.
Bullet bras today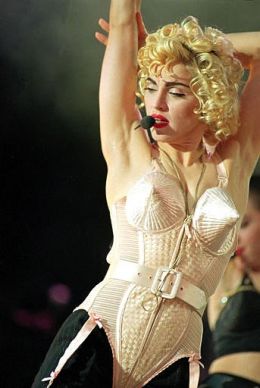 Today, these bras are hardly popular with the exception of die hard vintage fans.
There are instances where these bras make a debut on stages of some 'shocking' Hollywood celebrities such as Madonna who wore a Jean Paul Gaultier designed bullet bra during her 1990 tour. It was seen as erotic and provoking. And of course there's Lady Gaga as previously mentioned, Katy Perry and Rihanna to name a few.
It has also become popular with burlesque and rockabilly enthusiasts which both draw a lot of references from the 50's.
Where can you find this unique bra?
Today, this will be a bit difficult as it is now considered vintage lingerie. Good news is that there are a few companies around the world that still manufacture them but otherwise, you can search for the bras in vintage shops or on trading sites.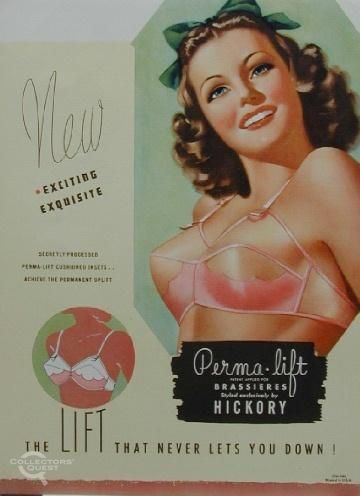 But Google is your best friend here. Simply type in this search term and see a few great brands pop up which can deliver this lingerie piece straight to your door.
If you are planning to buy this bra...
Make sure that you buy one band size from what you normally wear.
Also, if you have shallow breasts, getting bullet bra pads can do the trick and fill out the cups.
Are you still one of the few that loves wearing these bras? What is your favorite brand that you swear by?
Please share below! We'd love to hear your suggestions!
---

If you enjoyed the article "Bullet Bra"…
Connect with me on Facebook!

Click here to connect with me on Facebook
---