Does your photo have what it takes to become our home page picture for a day?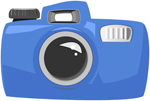 We would love to feature
YOUR
picture on our home page!
If you think it's amazing and so do we, we will display it!
Please be aware this is awfully popular on our site so we may not be able to display your picture as soon as we get it!
Make sure you send us your email address so we can email you the day we feature your photograph!
Please note
: before uploading the photograph to us, make sure you ask all parties that were involved in the photograph whether you can submit the photo.
PinUpPassion.com takes no responsibility for any terms and conditions broken between you and any other parties involved.
IMPORTANT!
: PinUpPassion wants
YOU to be famous!
So we assumes that because you are uploading the photo you also give us permission to use the photograph elsewhere on our website with credit given accordingly to you. Make sure you specify that you DON'T want this to happen if you would like to LIMIT your exposure.
Best of luck :)